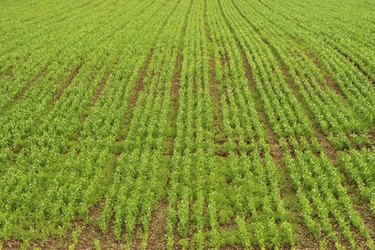 Premiering in 1939, the Farmall M remained in production through the early 1950s. It succeeded the Model H, but better serves the conditions of large-scale farming. In fact, the M tractors were among the largest at the time of the introduction. The increased horsepower allows them to haul implements that plow up to four rows per pass. The modifications of this design were numerous over the manufacturing lifespan.
Engine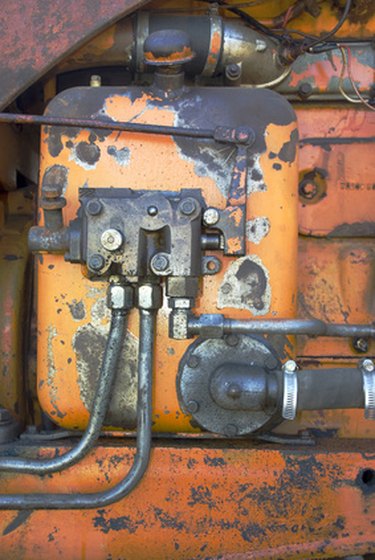 The engine for the Farmall M was assembled by International Harvester in Rock Island, IL, and Doncaster, England. Running on four cylinders, this engine was created in versions compatible with distillate fuel and with gasoline. The design is that of a vertical L-head engine, meaning the crankshaft is on a vertical plane, while each cylinder is shaped like an inverted "L". The cylinders, moreover, each possess a bore of 3.875 inches and a stroke of 5.25 inches, yielding a total engine displacement, or measurement of the engine power, of 247.7 cubic inches. Pistons fire in the order of 1-3-4-2. Running up to 1,450 revolutions per minute (rpm), the engine has a power take-off attachment (PTO), which conveys power from the tractor to a plowing attachment, which can run up to 540 rpm. The fuel capacity is 21 gallons, plus one gallon held in an auxiliary tank. Horsepower measures between 34 and 37.
Transmission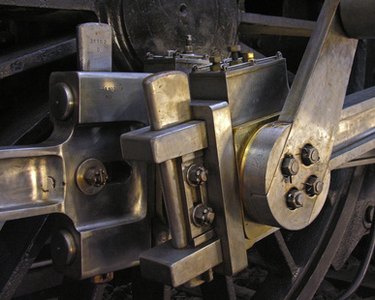 The 1948 Farmall M has a sliding gear transmission. This component has a unique history. The model came out of the manufacturing plant, as it had from the inception, with five forward gears and one for reverse. Yet a good deal of post-war dissatisfaction with the large gap in speed differentials was developing, thus prompting two entrepreneurs to design an "auxiliary transmission," enabling the machine with a total of nine speeds. Subsequently marketed to International Harvester dealerships, the attachment was then installed in many existing tractors throughout the Midwest. 1948 models may or may not contain this upgrade.
Dimensions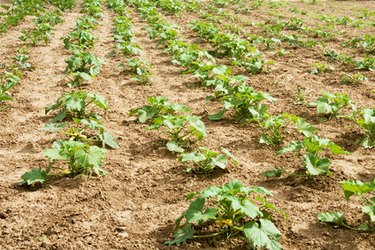 A total of 270,140 Farmall M tractors rolled off the assembly line before the termination of production, going for $2,400 in its final year. With a shipping weight of 4,858 pounds, the tractor measures 133 inches in length and 84 inches at its widest point. Standing 78.3 inches high, purchasers in 1948 could request the "MV" variant, which allowed for a higher ground clearance. Front tires have a section height, from the base of the tire bead to the top of the tread, of 16 inches, and a width of 6 inches. The rear tires are 36 inches in section height and 11.25 inches in section width.