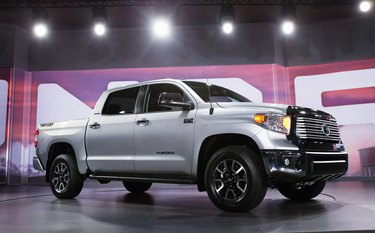 Toyota introduced the 5.7-liter I-Force V-8 in 2007 alongside a redesign of the Toyota Tundra. In came in ahead of the 4.7-liter V-8 and is the top of the line engine choice for Toyota's big pickup.
Construction and power
The current 5.7-liter i-Force V-8 is a 32-valve, double-overhead-cam engine with an aluminum block and aluminum cylinder heads. Toyota's Dual Independent Variable Valve Timing with Intelligence system is used to maximize fuel efficiency and power delivery. The engine has direct fuel injection and a 10.2-to-1 compression ratio.. The engine produces 381 horsepower at 5,600 rpm and 401 foot-pounds of torque at 3,600 rpm. The engine is mated to a 6-speed automatic transmission.
Choice of Fuels
The 5.7 liter i-Force V-8 is available as a gasoline or flex-fuel engine. Gasoline engines can run on 87 or higher octane gasoline with a maximum of 10 percent ethanol. Flex-fuel models can run on E-85 and other ethanol blends.
Capacities
The 5.7 i-Force V-8's oil capacity is 9.8 quarts. Coolant capacity is 12.8 quarts or 13.9 quarts with the Towing Package.
Performance Enhancements
For added performance, Toyota's TRD performance arm offers a supercharger kit as an aftermarket upgrade. The TRD supercharger is an Eaton TVS Roots-type unit with two four-lobe rotors. It increases horsepower to 504 and torque to 550 foot-pounds. If installed by a dealer the kit is covered by factory warranty, should any failures arise.