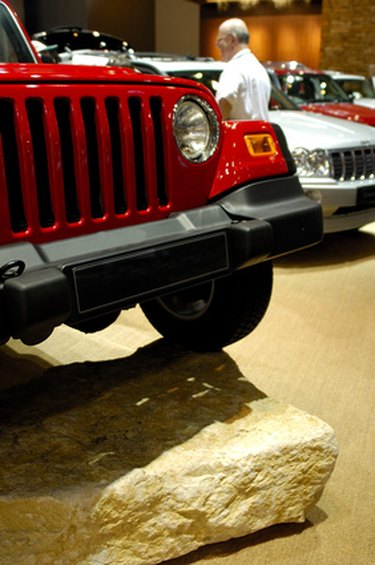 The Jeep Wrangler was first introduced in 1987. It was a successor to the Jeeps used by United States armed force members in World War II. The 1995 model was a part of the second generation of Wranglers. Jeep offered different options for the engine's size, fuel tank size and transmission type. The 1995 Wrangler was also offered in several different trim levels, including the Rio Grande edition.
Size and Fuel
The 1995 Jeep Wranger Rio Grande edition had a curb weight of 2,934 lbs. It was 151.9 inches long, 66 inches wide and 71.9 inches tall, and had a ground clearance of 8.4 inches and a wheelbase of 93.4 inches. It had a 15-gallon fuel tank. It was rated as getting an estimated 17 mpg in the city and 18 mpg on the highway.
Performance and Control
The Rio Grande edition came standard with an in-line, four-cylinder, 2.5-liter engine with 123 horsepower at 5,250 rpm and 139 foot-pounds of torque at 3,250 rpm. It could tow up to 2,000 pounds. It had 32.9-foot turning circle and was four-wheel drive.
Interior
The Jeep Rio Grande edition could seat two people, with headroom of 41.4 inches, shoulder room of 57.5 inches, hip room of 53.6 inches and legroom of 39.4 inches. It had a luggage capacity of 5.3 cubic feet and a maximum cargo capacity of 22 cubic feet. The vehicle came standard with cloth seating, bucket seats, a soft top and a light bar.