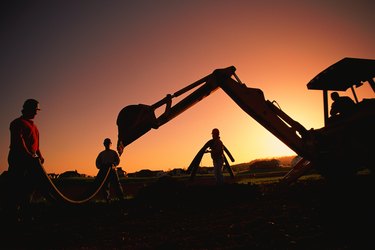 The New Holland LX 885 skid steer loader, like other loaders, scoops materials up for transport to another place. Skid steer loaders require two controls to move--one to operate the left tires or crawler tracks, the other to do the same on the right.
Engine
The New Holland LX 885 skid steer loader, manufactured from 1994 to 1999, features a three-cylinder, 192-cubic-inch diesel engine that produces 60 horsepower, according to Everything Attachments. New Holland manufactures the engine.
Rated Operating Capacity
The LX 885's rated operating capacity, or the maximum weight the machine should lift, is 2,200 lbs. or 997 kg. Its SAE tip rating is 4,704 lbs. or 2,138 kg. The LX 885 itself weighs 6,520 lbs., or 2,957 kg.
Other Considerations
The standard bucket length on the New Holland LX 885 is 72 inches, with a capacity of 16.7 cubic feet, though an optional 84-inch bucket is available. The LX 885 rides on 8.25-by-15-inch tires in both front and rear.