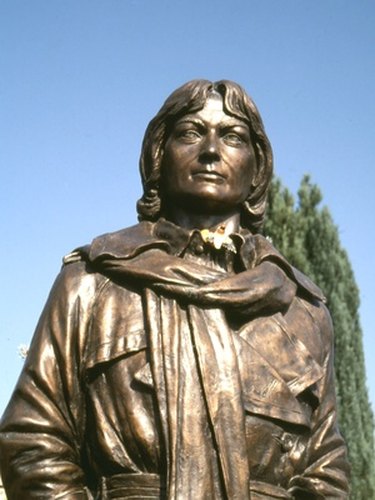 If planning a 100th birthday party for a human being is daunting, celebrating the Centennial of a whole town is an even more challenging task. City planners must find ways to honor the past, celebrate the present and dream about the future while drawing in community members of every age, creed and background. For maximum appeal, include a wide spectrum of citizens on the Centennial Planning Committee and host a city-wide brainstorming session.
Homecoming
If your city has a sports team – whether it's professional, intramural or strictly amateur – plan to turn one of their games into a city-wide homecoming celebration. Have a parade featuring the town's oldest and newest inhabitants as Grand Masters; encourage the school bands, the scouting troops and local celebrities to participate. Local businesses and organizations can enter floats that fit the parade's centennial theme. Advertise the game heavily, host a community bonfire and pep rally beforehand and a community homecoming dance afterward.
Public Art
Consign a local artist to create a piece of public art that will commemorate your town's centennial celebration for future generations. Ideas for such a piece include a mural showcasing the town's development from the first settlers to the present day, a statue of a town founder or a sculpture related to something for which the town is famous. Plan a well-publicized public unveiling.
Performances
Hold a contest for a local authors to write a play about the town's history, and arrange for the winner's play to be produced and performed during the centennial celebration. Have a competition to come up with a new city motto, song or a jingle for the Chamber of Commerce radio advertisements. Encourage local musical groups – from professional symphony orchestras to grade-school bands – to research what music was popular in your area 100 years ago and host a Battle of the Bands with local celebrity judges. Present the winners with a key to the city.
Scavenger Hunt
Have the local newspaper, television or radio station organize a city-wide scavenger hunt that will lead the participants through points of historical interest as well as local landmarks and businesses. Make the first successful scavenger honorary mayor for a day and award collectible commemorative coins to everyone who completes the hunt.