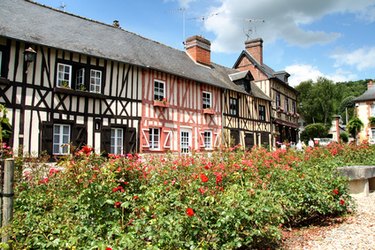 France is known for a wide variety of cheeses. Boursin is one brand that comes out of the Normandy region. Since 1957, the brand has been offering a number of cheese products. Each one has a signature creaminess that is mixed with everything from pepper to apples. When Boursin is not available, other cheeses can be used that offer the same or similar tastes.
Laughing Cow Light Garlic & Herb
Boursin Garlic & Fine Herbs is one of the varieties of Boursin cheese. It contains granulated garlic, salt, white pepper, parsley and dried chives in addition to a Gournay cheese base. A good substitute for this cheese is made by Laughing Cow, an American cheese company. Its light garlic and herb variety has the same creamy, spreadable consistency as Boursin cheese and this particular style also contains garlic and parsley. Onions are used, which are a decent replacement for the chives in the Boursin variety. In addition to having a similar taste and consistency, the Laughing Cow cheese is also a great substitute for those looking for a cheese with fewer calories. The light variety has only 35 calories per serving as opposed to Boursin's 120.
Beecher's Handmade Cheese
If you're looking for the soft spreadable quality of Boursin cheese but want something with more flavor, a good substitute is Beecher's Handmade Cheese. The Blank Slate Tapenade variety is a soft, fresh farmer's cheese that resembles Boursin in its consistency, coloring and base flavor. This variety has a mixture of garlic and herbs that is similar to the Boursin Garlic & Herb variety. It also kicks things up a notch by adding green, black and kalamata olives to the mix. This gives the cheese a potent Mediterranean taste that is slightly more exotic than Boursin cheese, but still resembling the product in many ways.
Vegan Substitute
Those subscribing to a vegan diet aren't able to enjoy Boursin cheese, or any cheese for that matter, but that doesn't mean there aren't adequate substitutes. The goal is to make something with the same creamy consistency that mimics the flavor of cheese. One recipe, adapted from the cookbook, "Ani's Raw Food Kitchen," combines a variety of nuts (macadamia, cashew and pine nuts) with salt, pepper, oregano, lemon juice, garlic, water and white miso. The resulting spread tastes like Boursin Garlic & Herb spread. It can be adjusted to mimic other Boursin varieties, such as adding roasted red peppers. That makes a vegan version of the Boursin Roasted Red Pepper & Garlic spread.