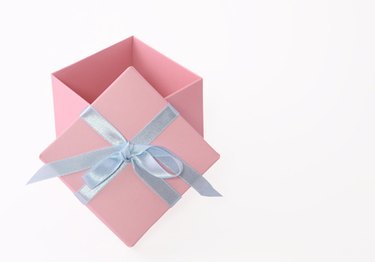 In Hindu Indian culture, there is a traditional baby shower that takes place in a woman's seventh month of pregnancy called Godh Bharna. However, there are no formalities in Indian culture about what to buy for a baby's first birthday. A traditional Indian gift such as Indian clothing would be as much appreciated as any other baby gift. What is important is that thought and effort have gone into the gift, as opposed to spending a small fortune. From sentimental gifts that can be treasured forever to toys that will bring instant joy, there is no right or wrong when it comes to buying a baby gift for an Indian girl's first birthday.
Traditional Clothes
There are lots of beautiful and traditional Indian clothes available in ethnic and online stores. Traditional Indian suits can be bought in an array of colors and are often worn at special occasions. If in doubt about the baby's clothes size, opt for a size up so that she can wear it in the near future.
Bangles
In Indian culture females often wear a selection of beautiful and sparkly bangles. Known as Kadas, bangles can be worn with both Indian and Western outfits. Alternatively, payal (anklets) can also be bought in silver or gold for a baby girl's first birthday.
Personalized Jewelry Box
A personalized jewelry box makes a great first birthday gift for a baby girl. Although jewelry boxes come in many styles and materials, wooden and silver are the most popular choices. Have the baby's name engraved, along with her birth date or a special message, for a personal touch. She will be able to keep her jewelry collection together in the box as she grows older.
Toys
For a gift that can be appreciated by baby straight away, opt for toys. Toys bring babies both fun and learning, and will also be appreciated by her friends should she be having a birthday party. There are lots of online stores that sell traditional wooden handmade Indian toys, if you decide to buy something that has cultural significance.
Photography Session
A photography session makes a thoughtful gift for a baby from any culture. Capturing the memory of a baby's first year is a keepsake that baby can cherish in her adulthood. Photography sessions can include baby on her own or with siblings and family. Have the images put into a special scrapbook or photo frame.