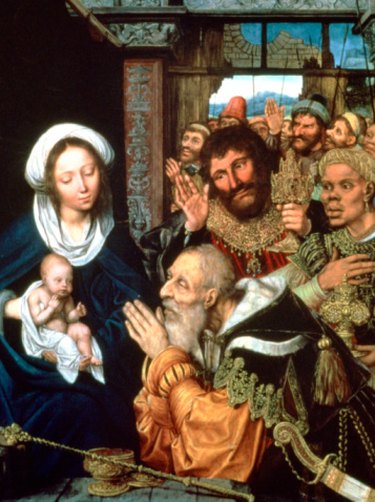 The Feast of Epiphany signifies the Magi acknowledging Jesus Christ as King. This occasion for feasting celebrates brotherhood and sharing in faith. According to western Christian custom, Epiphany falls on the 12th day after Christmas, or Jan. 6. In many countries, including the United States, the feast is celebrated on the first Sunday following Jan. 1. Epiphany is associated with numerous customs that vary by country.
Main Course
Bulgarians celebrate Epiphany with a special loaf of bread, called a cluster loaf, for their festive dinner. This accompanies a main course of pickled cabbage leaves stuffed with grouts drizzled with water and sauerkraut juice. A sweet follow-up for this Bulgarian main course is Stara Zagora-style wheat.
Tuscan tradition calls for appetizer platters of Tuscan cheeses and salamis. Broccoli accompanied by crostini with chicken liver pate often follows appetizers. The pasta course might include a tubular pasta, such as penne, tossed with hot Tuscan olive oil, or a fancier stuffed ravioli with rich duck or rabbit ragu. An abundance of pork sausages served with pieces of lamb and pork usually appears as the main course at Epiphany dinners.
Desserts
Epiphany, known as the holiday of light, finds representation with a dish of oranges, blood oranges, clementines or tangerines on the dinner table. Dried figs nestle among the dessert treats, which include spicy, exotic cakes.
Because the Magi haled from the Orient, spicy cake is a traditional Epiphany staple. It is customary to bake the Epiphany cake, or king cake, with a bean or small trinket hidden inside. Whomever receives the slice containing the bean is named king of the feast. Sometimes the baker hides two trinkets inside the cake: one for the king and another for the queen. European recipes for Epiphany cake vary from almond-paste-filled pastries to icing-layered confections.
Drinks
In England, the Epiphany dinner traditionally include a drink called lamb's wool. This cider- or ale-based beverage features roasted apples, sugar and spices. In some areas, it is customary to bless the apple trees during the celebration by dousing them with a libation of cider.
Blessing of the Home
One Epiphany custom is a blessing of the home. Blessed chalk marks the household entrance with the year and the inscription "CMB," which stands for the initials of the legendary Magi -- Caspar, Melchior and Balthasar -- as well as "Christus mansionem nenedicat," meaning "Christ, bless this home."