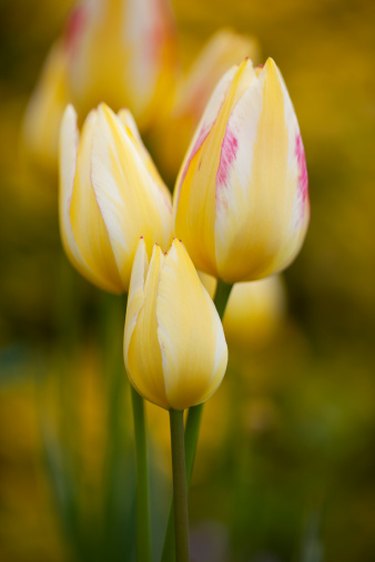 Many people love holidays where they receive gifts, and Easter Sunday is no different. Purchase or make your wife a special Easter gift she will remember for years to come. The gift can be something homemade from the heart or bought with love -- either way be creative and get her the perfect gift to make her Easter Day special.
Flowers
Get your wife a beautiful bouquet of spring flowers, such as tulips, zinnias, orchids, cherry blossoms or roses. Purchase the flower bouquet already made from a local florist, or purchase the flowers and vase separate and arrange your own specially made bouquet. Don't forget to put an Easter card in the flower bouquet.
Gift Basket
Make your wife a gift basket with all her favorite things. Put in a bottle of her favorite perfume, candles, bubble bath, books, lotion and some chocolate egg candies for Easter. Use an Easter basket to make the gift and plastic grass for the stuffing. Put a clear Easter gift wrap around the basket and tie a large bow on it.
Romantic Egg Trail
For a romantic Easter gift, purchase some plastic Easter eggs that snap in the middle. Place a note in one of the eggs that says, "Take a look in the bedroom." Then put that egg on the kitchen counter or somewhere that she will see it when she comes home. In the bedroom, place an egg on the bed with another note in it that says, "Now look in the bathroom." Have a nice, warm bubble bath ran in the bathtub with rose petals scattered in the water. Put out a glass of champagne, some candles and soft music in the background.
Once she is finished, have another egg waiting on the counter with a note that says, "Take another look on the bed." Make a plate of fruit with chocolate fondue and surprise your wife with a romantic evening.
Easter Cupcakes
If your wife likes sweets, make her some Easter cupcakes to enjoy. Bake her favorite cupcakes and ice with green icing. Use pastel-colored jellybeans and place a couple on each cupcake to resemble Easter eggs. Shape the cupcakes in the shape of a heart on a platter and give to your wife on Easter.
Gift Certificate
Get your wife a gift certificate to get a manicure, pedicure, get her hair done, a day at the spa or a massage. Purchase an Easter card and stick the gift certificate in the card.