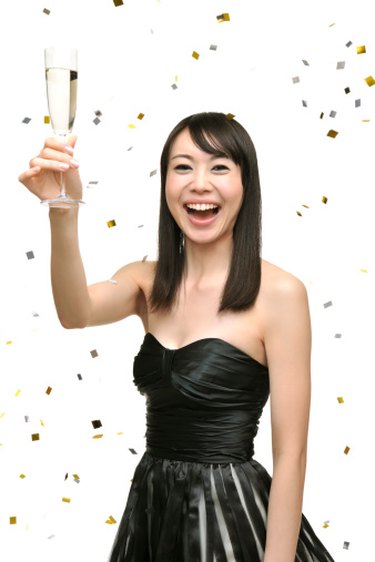 It's important to celebrate your birthday no matter how old you are. Turning 27 isn't a milestone birthday, but you should still have fun when her birthday celebration. Rather than focusing on her age, try and mix the playfulness of youth with a bit of sophistication. Keep her personal tastes in mind when planning the celebration to ensure that she remembers this birthday for years to come.
Black & White Party
The colors black and white have a romance all their own. Old Hollywood movies with their epic scenery and grand romances make a great backdrop to a birthday party. Send out crisp white invitations with black writing, requesting guests to arrive at the party wearing only those two colors. Decorate the room using the colors and try to incorporate as many foods as possible that are either black or white in appearance. In the event that she doesn't like foods that meet those requirements, a birthday cake decorated with black and white fondant makes a great centerpiece.
Girl's Night Out
Arranging a girl's night out to celebrate her 27th birthday will give her a chance to have fun and let loose. Work and family obligations often make getting together difficult, so get in touch with all her friends several weeks before her birthday and make sure they clear that date on their calendars. Have everyone over for a few pre-party drinks, then send them off to her favorite restaurant in a limousine. End the night at a bar or club she enjoys, and have the limo drop everyone off at home.
Cocktail Party
Creating a cocktail bar atmosphere to celebrate her birthday gives her the chance to see and talk to a lot of people in an intimate setting. Hire a bartender and set up the room to look like a club with lots of small tables to gather around and chat. Soft lighting provided by candles and hanging lanterns will also give the party a more intimate feeling. Have waiters (younger siblings or cousins) circulate around the room with platters of appetizers.
Decade Themed Party
Plan the party around her favorite era. 80s themed birthday parties are great fun for women who grew up during that decade, but 1920s swingers and the glamour of the 1950s and 60s are other eras you can base the party celebrations around. When basing her birthday party around a specific era, make sure that the room and food match the decade. Search the Internet for different recipes from the decade and serve those alongside her favorite snacks. Include instructions on the invitations for all guests to dress up in clothing suitable for the time period.