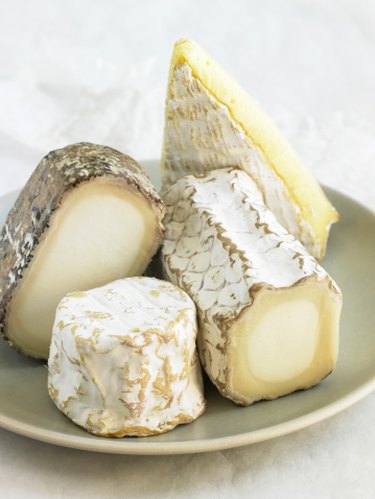 Brie is a soft cheese named after the French province where it was originally created. Sometimes referred to as Brie de Meaux, the popular cheese is made from unpasteurized cow's milk and is known for its rich combination of hazelnut, fruit and herb flavors. Brie is best served at room temperature, and pairs well with Champagne, a red Bordeaux or Burgundy wine. However, there are a few acceptable substitutions for Brie if you're looking for some variation.
Camembert
As one of France's most famous cheeses, Camembert has long been a rival of and popular substitute for Brie--thanks to their similar methods of production. Also made from cow's milk, Camembert is crumbly when first ripening and then develops a creamier texture over time. In contrast to the fruity hazelnut taste of Brie, however, Camembert has a delicate saltiness that goes well with baguettes, fruit and nuts. The soft cheese is best served at room temperature and pairs well with a red Bordeaux or Beaujolais.
Coulommiers
Said to be the ancestor of Brie, Coulommiers cheese is a popular substitute because of its place at the head of the Brie family. Coulommiers can be made from either raw or pasteurized cow's milk and ripens into an especially rich and creamy cheese. Coulommiers's thick crust and rich, nutty flavor make it a popular choice served alone, but it also combines well with French bread, apples, pears or berries. Best served at room temperature, Coulommiers pairs well with a red Bordeaux or Sauvignon Blanc.
Reblochon
Roblochon cheese features a bold flavor, nutty after taste and a very strong herbal scent. Aged in mountain caves and cellars, this soft cheese is actually softer and creamier than Brie, but its nutty flavor makes it an acceptable substitute. Roblochon is often served before dinner, but is also a recommended addition to baked potatoes and tartiflette. It pairs well with a white Savoie or with a fruity red wine like Beaujolais.
Paglietta
A soft Italian cheese made from a mixture of both cow and goat milk, Paglietta closely resembles both Brie and Camembert. Moist and slightly runny when ripe, Paglietta has a fruity flavor and is best served at room temperature. It is available in three versions: full fat, semi-fat and cremino. Paglietta can be served alone or with crackers and fruits, and like other Brie substitutes, it pairs well with a red Bordeaux wine.