Thanks to canned chickpeas, it's easy to make hummus at home, but have you ever tried using freshly cooked chickpeas? Not only is it delicious but it's extremely gratifying to know your hummus was totally made from scratch. What's more, you can use an Instant Pot to speed up the process. (Dried chickpeas are typically cooked on the stove top, but it can take one to two hours.) Here's how to do it.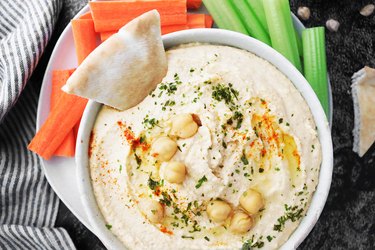 Things You'll Need
8 ounces dried chickpeas (about 1 1/2 cups)

6 cups water

1 bay leaf (optional)

1 lemon, juiced

1/2 cup tahini

2 or 3 garlic cloves, minced or sliced

1 teaspoon salt

1/2 teaspoon ground black pepper

1/4 teaspoon paprika

1/3 cup olive oil
Step 1
Add the chickpeas, water and bay leaf to the Instant Pot. Seal the lid and set it to "Manual" or "Pressure Cook." (The button for this setting depends on the Instant Pot model. "Manual" and "Pressure Cook" are the same thing.) Set the timer to 35 minutes on "High." After about 10 minutes, the Instant Pot will reach the right pressure and will begin counting down.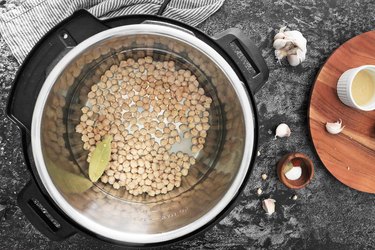 Step 2
The Instant Pot will beep after 35 minutes. Turn it off and then let it sit for 20 to 30 minutes to allow the steam to naturally release. When the float valve drops, open the lid.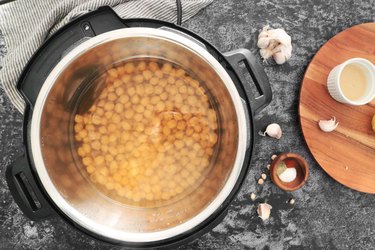 Tip
To make sure there's no leftover pressure, do a "quick release" before opening the lid. You can do this by pressing the steam-release button or moving the valve. Keep your face and hands away from the lid in case it releases a stream of pressure.
Step 3
Drain the chickpeas, saving about 1 cup of cooking water. Discard the bay leaf and rinse the beans.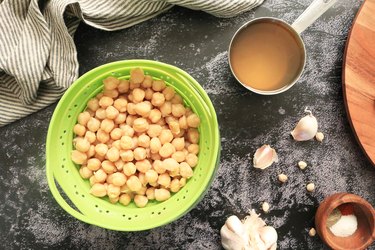 Step 4
In a blender or food processor, combine the cooked chickpeas, garlic, lemon juice, tahini, spices, olive oil and 1/2 cup cooking water.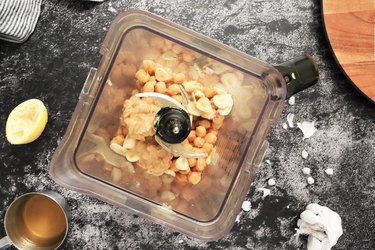 Blend the ingredients until smooth, scraping down the sides as necessary. Slowly add the remaining water until it reaches your desired consistency. Taste it and add more spices or lemon juice as necessary.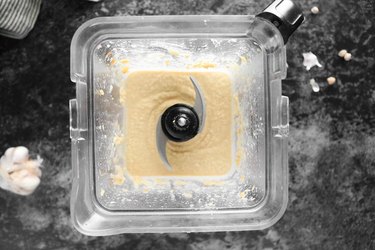 Step 5
Transfer the hummus to a bowl. Drizzle with olive oil and top with paprika, chickpeas and dried herbs of your choice. Other tasty topping ideas include hemp seeds and roasted red peppers. Serve it with sliced veggies, pita bread or chips.