Things You'll Need
1/2 lb. baking potatoes per serving

Cooking pot

Colander

Paper towels

Baking pan

1/2 tbsp. melted butter or olive oil per serving

1/4 tsp. fresh herbs per serving (optional)

Salt and pepper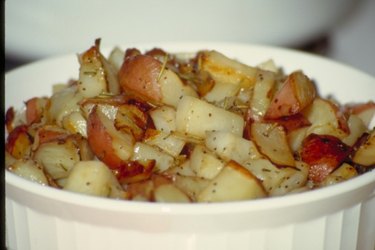 Cooking for a large crowd at a banquet requires careful planning and preparing as many dishes ahead of time as possible. Roasted potatoes are an ideal banquet dish since they can be made in a mass quantity ahead of time and reheated just before serving. Boiling the potatoes before roasting cuts down on the cooking time and ensures the centers cook until tender. This is especially important for larger baking potatoes.
Step 1
Scrub the potatoes and cut each large potato into four to six wedges.
Step 2
Bring a pot half-filled with water to a boil.
Step 3
Add the potatoes and par-cook them for 10 minutes.
Step 4
Drain the potatoes through a colander and rinse with cold water. Dry the potatoes with paper towels.
Step 5
Preheat the oven to 425 degrees Fahrenheit.
Step 6
Toss the potatoes with the melted butter, herbs and salt and pepper to taste.
Step 7
Spread the potatoes on a baking pan and cook for 45 minutes or until tender.
Tip
Rosemary, minced garlic, chopped onion or thyme go well with roasted potatoes.
Replace the baking potatoes with halved red potatoes or halved new potatoes and skip the boiling, but follow the other steps as for baking potatoes.