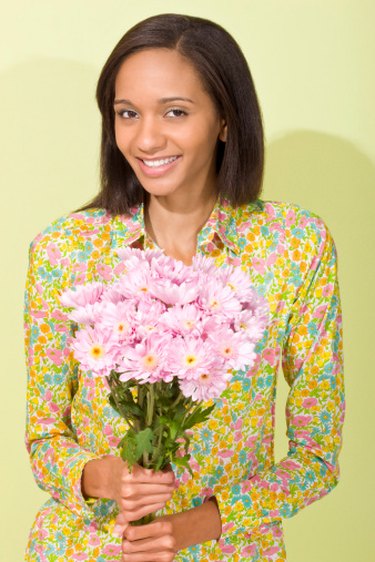 Your best friend's mom is like a second mom to you, and for her birthday, anniversary, Mother's Day or other special event, remind her how special she is with a present. If you are thinking about a type of gift but are not sure of the specifics, take your best friend shopping with you. With some planning, you can find the perfect gift for her.
Pictures
Help your best friend's mom remember all the wonderful times you have had with her and her daughter. Assemble pictures from throughout the years and put them in a photo album. Another alternative is to scan them and make a DVD slideshow or photo book from a picture website or store. If you like crafts, make a scrapbook that also contains mementos from past years. No matter the picture project, include little blurbs that highlight your loving feelings toward your best friend's mom.
Another gift sure to please is a digital picture frame. Arrange pictures on a memory card and put it in the frame before wrapping it. When she plugs it in for the first time, she will be pleasantly surprised to see familiar pictures.
Plants
Flowers make lovely thank you gifts. Send a large bouquet to her office or home. Include balloons and a thoughtful card. You can also ask for a special vase or container that your best friend's mom can keep after the flowers die. If the idea of the gift wilting within a week bothers you, send a potted plant. The type will depend upon her house's size and location. Ask the florist for advice.
If she is a long-time gardener or would be willing to try gardening, give her some needed tools. Veteran gardeners may already have their garden planned, but they always need fertilizer and bug protection for their plants. A gift card to a local nursery is a kind gesture. For a new gardener, vegetables for a potted garden, such as onions or peppers, do not take much space and are easy to grow. A herb garden is a thoughtful gift as well; find a herb kit that fits in her window.
Personal
Buying your best friend's mom personalized gifts should be a cinch, as you are frequently around her. Surprise her with a supply of her favorite makeup or perfume. Buy a charm bracelet and charms that represent important moments in her life. For instance, if you went with her family on a vacation, find a charm symbolizing that vacation.
Give a "relaxation" themed gift that includes a burned CD of soothing music, a spa foot roller and chamomile tea. Take the relaxation idea further, especially for a tired mother. Sleep deprivation is unhealthy. One tip is to create a room that's ideal for sleeping. Give the gift of sleep with eye covers, earplugs, a new blanket or comfortable pajamas.