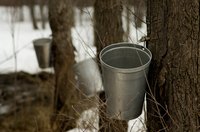 Whether you're out of maple syrup or looking to expand your options, you can use a few substitutes for recipes or for pouring over pancakes and waffles. Some of the substitutes are less expensive than premium grade maple syrup, but others may be more costly.
Substitutes for Baking
You have three main choices for substituting maple syrup in baking: honey, corn syrup and granulated sugar. The simplest is an equal measure of honey. Another substitute is a corn syrup mixture made with butter and optional maple extract. If a recipe calls for 1 cup of maple syrup, combine 3/4 cup of corn syrup with 1/4 cup of butter plus 1/2 teaspoon of maple extract. Refined sugar can replace maple syrup in some baked goods. Use 1 cup of granulated sugar to replace 3/4 cup of maple syrup. If you're doing this, increase the amount of liquid in the recipe by 3 tablespoons for each 1 cup of sugar you use.
Brown Rice Syrup
Brown rice syrup is made by fermenting brown rice with enzymes to break down the rice's starches. Then, the liquid is strained and cooked to a syrupy consistency. Brown rice syrup is usually made from organic rice. Brown rice syrup is amber with a light flavor, similar to butterscotch. Because it is a liquid, you can use equal quantities as maple syrup, but because rice syrup isn't as sweet as maple syrup, you may find the recipe less sweet overall.
Molasses
Molasses is a byproduct of sugar refining, and has a rich color and robust flavor. You can use any type of molasses over pancakes. Light molasses is sweet and mild. Dark molasses is thicker and less sweet. It is often used to make baked beans and shoofly pie. Because blackstrap molasses is not sweet and is extremely thick, it is not usually used for cooking.
Pancake Syrup
Commercial pancake syrup is likely the first maple syrup substitution you'd think of. It's inexpensive and sold in all supermarkets. Pancake syrup is made from corn syrup and artificial flavoring. Use it on waffles and pancakes in place of maple syrup or in baked goods in equal quantities.