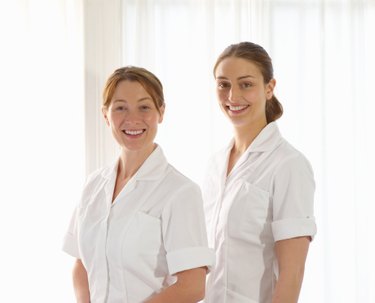 Florence Nightingale, the founder of modern nursing, was born on May 12, 1820. National Nurses Week, begins May 6 and ends on her birthday. It is an annual celebration honoring the men and women in the nursing profession. When you're giving flowers to a nurse during National Nurses Week, select flowers according to their traditional meanings. Floriography, which assigns specific meanings to flowers, was popular during the Victorian era. You can use the same language of flowers today. When you're preparing to give your flowers to the favorite nurse in your life, tell the recipient what they mean.
Cheerful
For the nurse who is always in good spirits, the coreopsis, a sunny-looking flower used in borders and flower beds, means "always cheerful." The crocus, a lovely bulb, says "cheerfulness." The yellow tulip expresses a similar sentiment: "There's sunshine in your smile."
Thankful
When expressing thanks to to your favorite nurse, send a bouquet of mature roses, which mean gratitude. Hydrangea says, "Thank you for understanding." Take care with this plant, though, because, like other flowers, it can have more than one meaning. Hydrangea can also convey frigidity and heartlessness. To express admiration, send red carnations or lavender-colored heather, which can also mean solitude.
Dancing
If you have recovered from an illness or surgery and are now back on your feet, send the nurse who tended you wisteria, which say, "Will you dance with me?" It is a playful reminder that your nurse did a good job of caring for you, and you are now healthy. If you are simply grateful for the nurse's friendship, iris says, "Your friendship means so much to me." Iris also expresses faith and hope.
Remembering
Let the nurse know you will always remember her. Perhaps she tended someone you cared for, such as a parent or another love one. The tea rose says, "I'll always remember you," while the pink carnation says, "I'll never forget you." Perhaps the person she cared for has passed on, and it is a loss you share. A bouquet of mixed zinnia says you are thinking of an absent friend.
Sentiments
For the nurse who has survived her own challenges, send a flowering cactus, which represents endurance. To wish the nurse a good National Nurse's Week, send bells-of-Ireland, which convey luck. White zinnias convey goodness, while the scarlet zinnia expresses constancy, a suitable sentiment for the nurse who is ever constant and reliable.
Love
If the nurse is your significant other, send flowers that express love. These include the red rose, the red tulip, the red chrysanthemum, the daisy and the orchid.