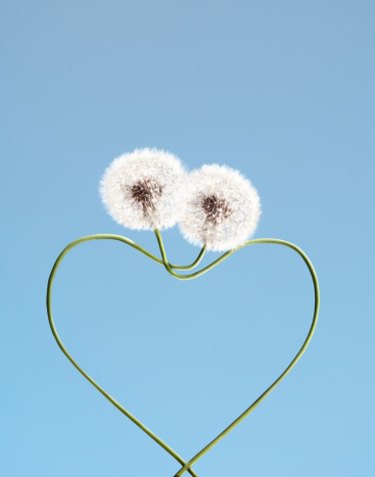 Valentine's Day is for the young at heart, not just the younger generation. Celebrate the holiday by creating special messages and homemade gifts for the people in your life. Over one billion Valentine cards are sent every year throughout the world, so make yours unique.
Tissue Paper Carnations
Give flowers on Valentine's Day that won't need water or trigger pollen allergies. To make fluffy flowers, choose one or two colors of tissue paper and cut out a stack of seven to 10 circles about 4 inches in diameter. Trace the bottom of a cup on the top sheet of tissue, then cut all the pieces together. Poke two holes in the middle of the stack of paper with scissors and thread a long stem of green pipe cleaner through them, leaving half an inch on one side. Pull the short end of the pipe cleaner down and wrap it around the longer stem to create the neck of the flower. Flatten the flower circle, then carefully peel back each layer, starting at the middle of the flower, and scrunch it up gently to create the carnation petals.
Cupcake Note Holders
These fabricated cupcakes hold an upside down plastic fork, which is the perfect place to stick a Valentine's note. In order for the fork to stand up, fill your cupcake wrapper a quarter full of plaster while it is in a sturdy baking pan. Stick the fork in and wait for it to dry, propping it up if necessary. You can also use modeling clay formed into the bottom of the cupcake wrapper to hold the fork. For the cupcake icing, you can use a variety of materials. Long, scrunched-up strips of tissue paper can be wound around your fork, glued as you go and layered to make a fat cupcake. Use white cotton batting as icing or glue cotton balls together. Top each cupcake off with glued-on sprinkles, small beads or confetti. Don't forget to write a sweet note to stick into the prongs of the fork before surprising someone with your homemade cupcake.
Heart Wreath
Make this special heart wreath on your own for somebody special, or with a group. Cut out the middle of a paper plate to create a sturdy wreath structure. Using construction paper or festive scrap-booking paper, cut out hearts about 3 or 4 inches in diameter. Decorate your hearts with messages from either yourself or a group of friends, using glitter pens or fancy markers. Layer the hearts onto the wreath, making sure all the messages can still be read, until your wreath is a full circle. Attach a piece of ribbon or yarn to the back of the wreath and hang it on someone's door or window to brighten his Valentine's Day.
Felt Valentine's Corsages
Create a corsage that will last forever using felt. Using a pencil, draw a flower shape around 3 to 4 inches in diameter on a piece of felt. A daisy shape, or a flower with wide petals, works well. Cut out your flower. Using a contrasting color of felt, draw another flower or circular shape that is smaller than the first, such as something 2 inches in diameter. Attach the smaller flower into the middle of the larger one, using glue or thread. Use a button or pretty bead as the center of your flower and decorate with glitter or fake gemstones. Glue a pin backing onto your flower and give it to someone special.