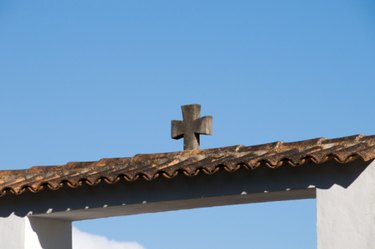 Clay tiles have a rich history that began around 10,000 BC. Early American Spanish settlers and missionaries used the a reliable roofing material. Spanish tile roofs are durable as they lack thermal conductivity and are easy to maintain. Interest in clay tiles was overcome by lighter, new fireproof materials by the 1830s. However, the popularity of Spanish Revival architecture keeps Spanish tiles in demand today. Several color variations now exist to cover the roofs of Mission and Spanish colonial style homes. Numerous exterior paint colors complement these terracotta fringed residential dwellings.
White
White complements most Spanish roof tile colors. It is an essential color solution that adorns the exteriors of Spanish colonial and Mission-style homes. This classic exterior paint color approach has extravagant presence and causes homes to look large, bold and attractive. White accentuates other Spanish style home details such as arched doorways and wooden doors. Sunlight falling on a white home with Spanish tiles creates a striking backdrop for towering palm tree shadows or those cast by wrought iron lighting fixtures.
Peach
Peach tones nearly three times lighter than terracotta tiles work well. Bring out the power of this color solution by selecting a medium and light peach exterior paint color for your home. Accentuate dominant architectural features with the lightest peach tone, and cover the rest of the home with the other one. Spanish colonial style homes sometimes feature sharp angles; a light peach tone may be used to soften these architectural features. Mediterranean greenery and verandas with red blooming flowers look dramatic against this two-tone peach exterior paint option.
Yellow
Yellow is an exterior paint color that adds a hint of color to homes with English and Mediterranean architectural features. Home designs of this variety couple terrecotta tile with decorative facade brickwork. Pale yellow is a color solution that harmonizes brick and Spanish tile colors effectively. Yellow picks up the color of Spanish tile without overpowering it. Adding white trim to a yellow home exterior accentuates the beauty of white roses bushes, shrubs or dainty white flowers.