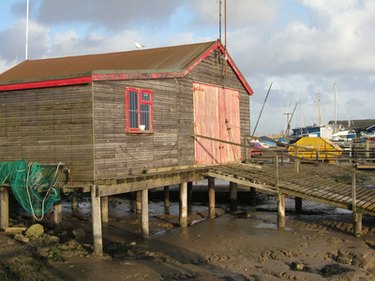 Similar to deck foundations, which support a home from over a body of water, pier foundations support a home from several feet above the ground and are often called 'stilt' houses. Economically constructed and built to withstand flooding, pier foundation homes are popular along coastlines or large bodies of water, offering their inhabitants raised, scenic views.
Design
Pier foundations support homes by posts, which refer to an installation that has the largest end at the ground, or pilings, which refer to installations that have the smallest end closest to the ground. Pier foundation homes, or stilt homes, are not always seen from the outside of the home, but rather are hidden by exterior walls. The most important factor in the design of a pier foundation is the footings ability to hold the weight and proportions of the home.
Materials
According to the website RaisedFloorLivingPro, Pier foundation homes, which are also called pier-and-beam homes, are built from reinforced masonry such as brick or concrete block. Supports are constructed with individual or continuous pad footings made from reinforced concrete.
Spacing
The spacing of pier foundation spacing depends on the arrangement of the floor's frame, bearing walls and partitions. The common spacing is between 8 and 12 feet.
Common Grounds
Pier foundation homes are often found near the ocean or in wetland areas of coastal states. Louisiana is a popular state for viewing pier foundation homes, particularly along the coastline of the state.
Uses
In coastal or wetland areas, pier foundation homes are popular as a measure of flood prevention. In addition, pier foundation homes are more economically constructed than other types of homes. Pier foundation homes take less labor and installation costs, offer more options for construction materials, and weather is not a concern, as controlled environments are used to make footings. Pier homes create crawl spaces under the home, which create a natural ventilation.
Questions to Consider
According to the website Building-Your-Green-Home, important questions to consider when choosing to build a pier foundation home. These include the depth of the footings, whether homeowner's insurance will cover the foundation, and if pier home construction is popular in the area.
Other Types of Raised Foundations
According to the website RaisedFloorLivingPro, pier and stem wall foundations are the most common of all raised floor systems, but other types include pile and permanent wood foundation structures.