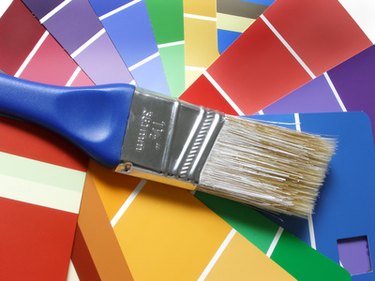 Valspar paints were created with the do-it-yourselfer in mind. They are sold through Lowe's home improvement stores and other independent paint retailers across the United States. Behr paints are also sold by a do-it-yourself megastore, Home Depot. Some online companies offer to match your Behr paint color with a Valspar equivalent for a fee, based on the color code number. However, you can avoid this fee by having a paint specialist at a Valspar dealer match the paint for you on a computerized paint matching system.
Step 1
Locate a sample of the Behr color you want to convert to Valspar. This can be a color swatch card or a sample of dried Behr paint in the appropriate color. If you are using a dried paint sample, the sample should be at least the size of a quarter.
Step 2
Visit Valspar.com and enter your ZIP code into the "Find a store near you" field on the right half of the Web page, then click "Go."
Step 3
Call the stores listed in the results to find out which retailers have a computerized color matching system. Most Lowe's stores have these systems, but it is best to call ahead to make sure the computer is operational before you make the trip to the store.
Step 4
Give your paint sample to the paint specialist and ask him to match it with a Valspar paint color in your preferred finish, such as flat, satin, eggshell or semigloss.
Step 5
Check a sample of the Valspar paint after it is mixed and compare it to your Behr sample. Make sure the paint is dry before you compare it, as most colors dry darker than they look when they are wet. If the color does not match as closely as you wish, ask the clerk to try the mixture again until you are satisfied.
Tip
If you are using more than one bucket of a tinted paint, mix all of your paint together in a larger bucket before painting to ensure even color throughout the project, as each batch may have a slight variation.