'80s workout clothes make for an entertaining and easily recognizable costume for a Halloween celebration or a theme party. Gather inspiration from '80s pop culture icons in film and music, and try to emulate the aerobic styles you see. Try hunting for vintage costume items in thrift stores, or make alterations to basic, affordable items to transform yourself into an '80s workout guru.
Leotard and Tights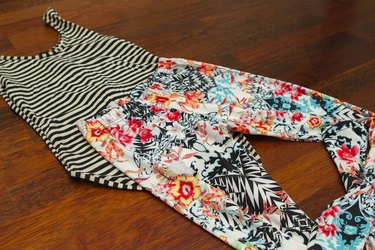 Leotards and tights were staples for '80s women's workout clothes; leotards covered the torso and sometimes the arms, while women sometimes wore leggings or tights underneath to cover the legs. If you are a female, wear a leotard with outrageous colors like neon purples and fuchsias, and highlight these colors or patterns with a pair of tights, leggings or bike shorts. If you can't find a leotard, wear a colorful one-piece bathing suit over the tights or leggings for a similar effect. If you are a man, substitute a pair of short shorts or drawstring sweatpants for the leotard and tights combination.
Overshirts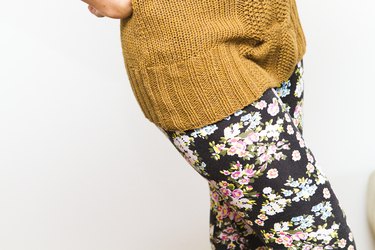 Oversized crew-neck sweatshirts or sweaters were often worn over the leotard and tights and fell off one shoulder. Achieve this look by cutting the elastic neck off a vintage sweatshirt or sweater; put the resulting garment on, and pull it down to expose one of your shoulders. If you think you will become overheated, cut the sleeves to a desirable length. You can also wear a vintage, oversized T-shirt over the leotard if you can't find a sweater or sweatshirt. If you are a male, wear a muscle tee or a crop top that you can make from an old sweatshirt or T-shirt. Look for these items in your home if you think you might possess some vintage clothing items, or check out your local thrift store for an affordable, authentic garment.
Leg Warmers
Leg warmers are another key component for pulling an '80s workout costume together. These are sleeve-like garments have an opening to expose the feet; wear them bunched around the ankles. Purchase leg warmers in many dance clothing supply stores, or you can cut the feet off a pair of large socks for convenience and affordability.
Accessories
Sweatbands were another '80s workout staple, so wear a colorful one around your forehead; place one or two sweatbands around your wrists as well. Pull your hair back into a side ponytail if you have long hair, and tie it up with a colorful scrunchie. Wear a vintage belt around your waist, and carry a pair of small hand weights if you have them.
Footwear
If you have the resources, search for a pair of colorful vintage '80s athletic shoes; look for high-tops as these were popular workout shoes of the time period. Another authentic option is a pair of plain canvas tennis shoes. If you are unable to find these kinds of items, simply wear a pair of athletic sneakers to complete your costume.