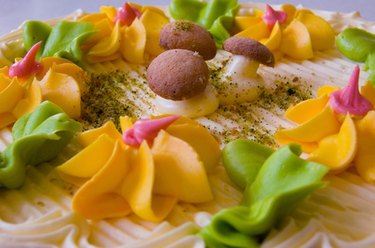 A 65th birthday is a time to celebrate the achievements, dreams and individuality of a person. Birthday cakes that reflect the person's life, hopes, goals or what the person values in life, will create delicious edible memories.
Celebrate the Future
Celebrating a 65th birthday may coincide with a retirement party and celebration. Decorate cakes to help them visualize a happy retirement or to celebrate their lives and achievements. A cake may include decoration themes such as a golf cake, a gone fishing cake or a cake with a gardening theme. To create a garden themed cake, start with a frosted sheet cake. Use candies and vegetables like broccoli and carrots and fruit roll ups to create a garden area. Complete the cake with a frosted inscription such as Happy 65th Birthday or Let's Have a Blooming Good Time-Every Day!
Family Oriented
Create a family tree cake for those who cherish their families. Begin by decorating round flat cookies with family images with Food Writer markers or with frosting. Make tree branches with florist wire, tape and leaves. Attach the cookie images with florist wire to the branches. Frost a round cake for the base. Then use tiered cake construction methods or a tubular base such as a baby bottle to create a tree trunk on the round cake base. Pipe brown icing onto the trunk base. Attach the branches to the trunk with icing or melted candy. Finish the cake by piping onto the cake the words, "Happy 65th Birthday From Your Loving Family!" Alternatively, decorate a flat sheet cake with a piped frosting tree and place the cookie images directly onto the cake.
65 Cakes
If you need to be conscious about portion sizes or need to have a variety of flavors, try creating a cupcake cake made with 65 cupcakes. Arrange the cupcakes into a pattern, such as a rectangle. Decorate the cupcake tops as one to create designs such as a football field using green and white frosting and football decorations. Another simple design would be to create a rainbow by arranging the cupcakes in curved rows and decorating them with the rainbow colors. If 65 cupcakes are too many cupcakes for your party, just bake and frost enough cupcakes to make the number shapes 6 and 5. Another alternative is to create hobby themed individual cupcakes such as baseballs or basketballs or with a theme such as a dream vacation with little cupcake islands.