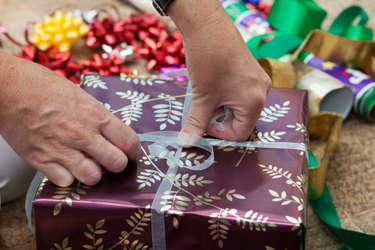 Gift exchanges can help get a group into the giving spirit of the Christmas season. They also are effective for making sure everyone comes away from your party with a token by which they can remember the event. Traditionally, people draw numbers to exchange gifts, or they buy a gift for one person from the group based on assignment. Your guests may have more fun if you branch your gift exchange Christmas tree out to other alternatives.
Exchange Bingo
Exchange bingo is identical to regular bingo. The only difference is that the prizes are the gifts people bring to your party. When a person gets a bingo, they may claim any gift they like. If some prizes already have been claimed, you can give the option to steal those prizes on games that follow. If you want the exchange to last longer, use options such as requiring a full card to get a bingo. To speed it up, try using only corners.
Crooked Santa
Traditionally, in a "crooked Santa" exchange, you may steal gifts from others instead of unwrapping one that no one has chosen yet. For this variation, you exchange gifts in any way you like. After the exchange, however, as people go about the party, guests can swap out gifts that have been left sitting around, putting their own in the place of what they want. Guests aren't allowed to carry the gifts they want around to keep others from stealing them. Keep stealing until the end of the party. The fun here is that all guests can steal many times and won't know until the end of the party what gift they'll have when they leave. Guests will have fun practicing their stealth.
Holiday Recipe Exchange
A yummy, traditional holiday meal can make it truly feel like Christmas. Use this idea to have people bring their favorite holiday recipes, along with all of the ingredients needed to make the dish. Set a maximum dollar value for the food recipe to keep the recipes simple and affordable. Have an auction for each food and recipe--guests may not bid on their own items. Give the proceeds from the auction to your local homeless shelter or food pantry to give even more people the gift of a holiday meal. If desired for simplicity, if you don't have a fridge or coolers handy, you can arrange for guests to deliver the food items for the recipes to each other so refrigerated or frozen items don't thaw or spoil during your party.
Musical Chairs Potato
Musical Chairs Potato is a combination of Pass the Parcel and Musical Chairs. Have everyone sit in a circle. Have guests pass one gift at a time around the circle as fast as possible as you play music. Stop the music at random. The person who has the gift when the music stops gets to unwrap the gift and keep it.
Trivia Exchange
People sometimes are unfamiliar with the origins of Christmas stories and traditions, or they have little knowledge of the way people from other nations celebrate Christmas. If you'd like to add a little educational value to your exchange, combine the exchange with trivia. A simple method is to ask a Christmas trivia question--for example, what country celebrates Christmas with a Christmas witch (Italy)--and then let the guest who correctly answers the trivia question pick a gift. You also could give guests trivia cards and attach cards with the trivia answers to the gifts after guests arrive. Guests would get whatever gift had the answer that matched their question.