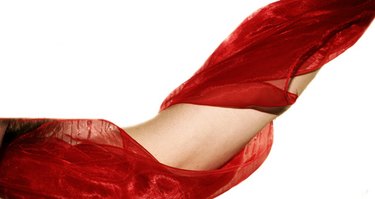 Chiffon is a fabric produced with silk or polyester yarns, according to Dawn Devine Brown's website. Chiffon is a plain-woven fabric often used in the creation of night gowns, dancing costumes, wedding dresses and curtains. Transparency, light weight and simplicity of the weaving pattern are among chiffon's characteristics, according to author and design Professor Karla Nielson in "Interior Textiles: Fabrics, Applications, & Historical Styles."
Plain-woven
Chiffon is a plain-woven fabric; its fibers are aligned, forming a criss-cross simple pattern. This weaving style is not only the simplest, but also the oldest. It is used in delicate fabrics such as chiffon, but also to make rustic yarns and in tapestry, reports author and professor Karla Nielson.
Transparent
According to the bridal website The Knot, chiffon is delicate, sheer and transparent. The fabric is also characterized by its soft finish. Chiffon is often layered because of its transparency. It is a popular choice for wedding dress overskirts, sheer sleeves and wraps, and also used for making loose tops and full pants, reports author and broadcaster Sandra Betzina in "More Fabric Savvy: A Quick Resource Guide to Selecting and Sewing Fabric."
Lightweight
Chiffon is commonly used to design belly dance costumes because of its light weight. According to Dawn Devine Brown's website, chiffon is an excellent choice for making full circle skirts and light, floaty veils. However, some chiffon can be very stiff, so you should test the drape before buying it by simply unwrapping a few yards from the bolt and holding it up.