Planning a banquet requires you to make decisions concerning the arrangements for the event. In addition to deciding what foods and beverages the attendees of your banquet will eat and drink, you must also decide how they will receive that food. Each type of banquet service has its own benefits and considerations.
Sit-down Service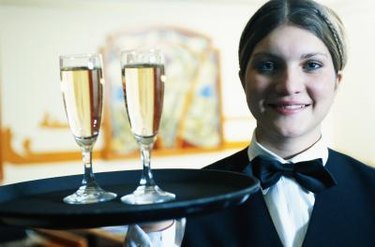 With sit-down service, your banquet guests receive their food at their seats. Typically, you offer a choice of entrees, such as a beef, chicken, fish or vegetarian dinner and have attendees make selections ahead of time.
This requires extra work in the planning stages of the event as you will need to keep track of not only who is attending, but who has made dinner selections and what those dinner selections were. Banquet hosts often opt for sit-down service despite the added planning because it is generally considered the most elegant of service types, explains Peggy Post in the "Emily Post's Wedding Planner." Sit-down service is generally the most expensive type of banquet dining.
Buffet Service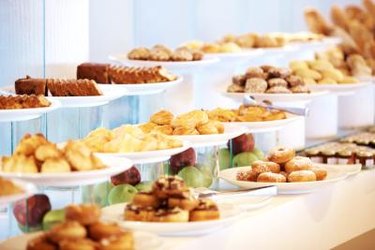 A long line of hot and cold foods placed along one or more tables is the main characteristic of buffet service. Guests form one or two lines and walk alongside the buffet table, choosing what food they wish to eat. Some buffets have waitstaff explain what each dish is and serve portions directly onto guests' plates. Other buffets are strictly self-serve or combine self-service with a few staff-served choices, such as carved beef or turkey.
Buffet service is generally regarded as less elegant than seated service since guests are required to at least go and get their meals on their own, according to "Emily Post's Wedding Planner." The cost is typically lower for a buffet meal, however, and it often allows for a greater number of meal choices for picky attendees. No advance planning is required for a buffet service beyond selecting the items to be served and providing the banquet facility with a final number of guests.
Station Service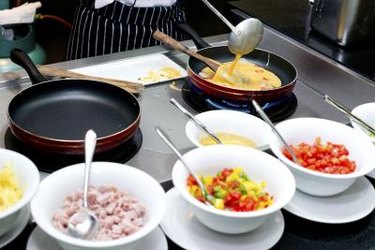 Station service is a modified form of buffet service, and typically costs somewhere between the price of a buffet and a sit-down meal. At a station service banquet, small tables are set up around the banquet room. Each station features a different kind of food and is typically staffed by a banquet server who keeps the food replenished and, in some cases, prepares or serves it. Stations may include an omelet station at a breakfast banquet, a sushi bar or a table filled with cheeses and charcuterie.
Station service encourages guests to move about the room and mingle with other attendees, while still having tables available for guests to return to and enjoy their meals during a scheduled dinner hour. Like buffet service, stations require minimal planning, but because they are less common than other types of banquets, often maintain a more elegant feel than a traditional buffet, reports "Emily Post's Wedding Planner."
Passed-tray Service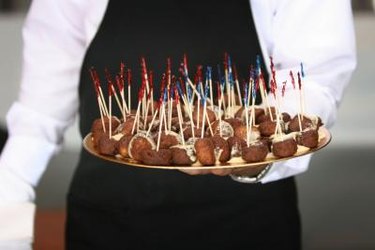 Passed-tray service typically occurs in lieu of a traditional meal. With this type of service, the waitstaff circulates through the banquet room with finger foods on large platters. The servers approach guests and offer food and a napkin. The service typically operates continuously for a block of time, and a full meal may not be served.
Passed-tray service encourages conversation and is typically considered more elegant than a buffet, according to "Emily Post's Wedding Planner." The cost of a passed-tray event varies based upon the types of foods you select and how long you wish for the service to continue and may or may not be more expensive than a buffet. Some guests expect to eat a meal at a banquet, however, and may feel disappointed if only passed-trays are offered.