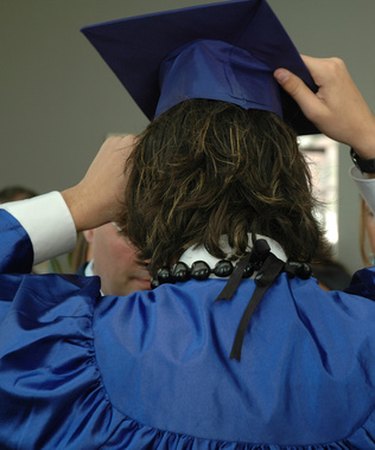 A 25-year reunion is a chance for high school classmates to reconnect and catch up on the events of their lives since graduation. The reunion should provide plenty of time for classmates to socialize and introduce their families, but you can also provide themed activities to serve as icebreakers and drive the reunion. Finding your classmates can prove to be a difficult task, so you should start planning at least one year in advance.
Themes
Plan reunion activities, decorations and music around a central theme. For a 25-year reunion, a "Then and Now" nostalgic theme is one of the best options to remind students of their school years. Have each attendee provide a present-day picture of themselves, then decorate the venue by placing present pictures beside their yearbook photograph. Another variation is to give each attendee the yearbook photograph of another classmate and challenge them to match the picture with the guest in attendance. You also can do a comparison of popular culture, including fashion trends and popular music.
Similarly, a retro theme will remind attendees of the past with decorations, music, clothing and activities centered on the year of your graduation.
Prizes
An interesting way to learn what your former classmates have been up to for the past 25 years is to award prizes throughout the reunion. Awards can be practical, such as gift certificates, or humorous and lighthearted. You can give a prize to the classmate with the most interesting job and the most dangerous job. Awards for the classmates with the most gray hair or least hair are sure to bring some laughs. You can give an award to the classmate who looks most like they did in high school or college, as well as for the most unrecognizable classmate. You also can recognize the person who has accumulated the most college degrees or whose work has had the greatest impact on society.
Activities
Planned activities are especially helpful as icebreakers at the beginning of the reunion. Your classmates can take a group tour of your high school or college to stir up some memories. You can orchestrate the event to coincide with the homecoming football game and reserve seating for your class. An afternoon picnic is ideal for reunions that are open to children and families. A trivia game will test the memories of those in attendance. See who can remember the class song, homecoming or prom queen and king, the football team's record or the least popular lunch food. You also can recreate yearbook photos in the present. Have guests pose with the same classmates they posed with in the yearbook. After the reunion, you can print an updated yearbook for people to purchase.