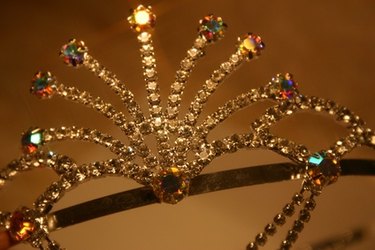 A quinceanera celebrates the 15th birthday of a young woman in Latin American cultures. Often compared to Sweet 16 parties in American culture, the quinceanera marks the young woman's transition from childhood to adulthood. The quinceanera reception typically follows the Catholic Mass that honors this transition. When planning the quinceanera, activities need to entertain both adult and teenage guests. The quinceanera celebration possesses traditional activities that can be combined with those that reflect the honoree's interests.
Quinceanera Court Presentation
The quinceanera reception begins with a presentation of the guest of honor and her court. This presentation sets the tone for the celebration. Tradition calls for the quinceanera celebrant to choose a court of seven males (chambelans) and seven females (damas). The DJ or emcee of the reception introduces each court member before the young woman celebrating her quinceanera comes out. She is accompanied by an escort or her parents. How the young woman chooses to present her court is up to her and her interests. She and her court can perform a choreographed ballroom dance to entertain guests, or they can choose more festive and upbeat music to walk out to.
Dance
Much like a wedding reception, the post-meal hours of the quinceanera revolve around a dance floor and music. A DJ or band can provide the music, and the quinceanera celebrant who loves to dance can lead line dances to get guests on the dance floor. She can also choose to have a father-daughter dance to a sentimental song before guests hit the dance floor. According to Mis Quince Magazine, fathers traditionally dance the waltz with their daughters and their quinceanera.
Other Activities
Several activities that take place at a quinceanera have roots in tradition. During the reception, the father or a close male relative changes the guest of honor's shoes from flats to heels to signal her shift from childhood to adulthood. The brindis, or toast, takes place during the ceremony, giving all quinceanera guests an opportunity to pay tribute to the guest of honor. The mother of the celebrant places a tiara on her head to signify her status as a princess of God and as an adult who triumphed over her childhood.