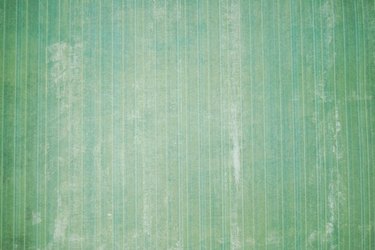 If you're looking for a way to freshen up old wallpaper or put your own creative stamp on a new wallpaper, you may consider a wallpaper stain. Staining can give wallpaper a subtle makeover that is noticeable but not overpowering. You can stain wallpaper with traditional wood stain, or you can use a bath of tea, coffee or even juice mix. Whatever you choose, keep these tips in mind to ensure your staining project runs smoothly.
Test Your Stain
No matter what type of stain you choose, it's a good idea to test it out before you apply the stain to your entire wall and find the results are not as you expected. If you are staining new wallpaper, apply the stain to a small section of wallpaper. If you are staining existing wallpaper, apply the stain to an inconspicuous area of the wall. Allow the stain to dry and set in for at least 24 hours, and verify that you like the effects of the shading and coloring. Some stains can darken or lighten as they dry depending on the conditions in your home and the materials used.
Consider Your Applicator
Choose your applicator carefully, because it can dramatically alter the effects of your wallpaper stain. If you are using a stain made out of coffee, tea or other homemade recipe, the stain may be thin and somewhat uneven. You can use this attribute to your advantage to create more depth to your stain. Drag the brush vertically to create a pin-stripe design, or alternate vertical and horizontal brushstrokes to create a cross hatch pattern. You can also use a rag or sponge applicator to create a faded effect with your stain. For a more even wash, mix your stain solution well, and dip your wallpaper into the stain mixture to thoroughly coat the paper.
Protect Other Surfaces
When you stain your wallpaper, take care to protect the other surfaces in your home. Lay protective plastic or several layers of newspaper to prevent accidental stains on your floors from drips or spills. Use painter's tape to create a seal along wall moldings and trim to keep the stain from dripping and soaking into porous surfaces. If there is any portion of your wall that is not wallpapered, cover this area with protective plastic. Wear latex gloves to protect your hands from stains, and wear old clothing or work clothes that won't be ruined by staining.