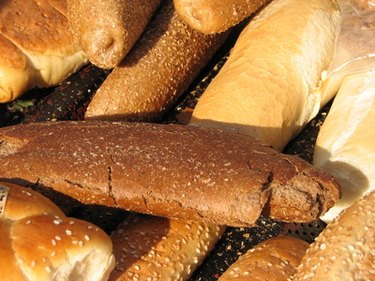 Everyone loves a delicious spinach dip. Served at large or intimate parties, before dinner at your favorite restaurant or at home for a snack, spinach dip satisfies. What to put it on is often a question of taste, but matching the perfect bread with a yummy spinach dip can be an out-of-this-world combination.
Pita Bread
Pita bread is a classic staple of Mediterranean cuisine. For some spinach dips, especially at large parties, pita bread triangles are a great match. Easy to grab and dip, these delicious flat breads complement the creamy taste of spinach dip. Pita bread is a common accompaniment to restaurant spinach dips. Bake your own or buy a package at the store. Serve warmed for a special effect.
Crusty Bread
A good crusty loaf of bread also pairs well with spinach dip. Find a loaf at the local bakery or search out a recipe for yourself. Think in terms of bread used for a crostini or bruschetta. Cut the the loaf into 1/2-inch slices and serve regular or toasted. For an extra bit of panache, rub slices with olive oil, top with garlic and toast in the oven for a crusty garlic bread vehicle for your spinach dip.
Bread Bowl
Party appetizers are more impressive with a creative serving method. Purchase a round loaf of bread that is relatively high. Cut a conical shape from the top to the middle of the bread to create a beautiful bread bowl. Pour spinach dip into the bowl of bread and serve with cut up pieces of the bread bowl top, pita bread or tortilla chips. Though the bread bowl may go unconsumed for the majority of the spinach dip's time on the table, the serving method is creative and unexpectedly fancy.