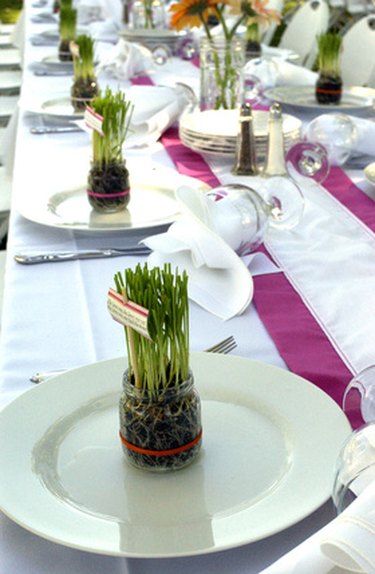 Serving a banquet requires skill with a dash of luck. Being on your feet throughout an event, lugging trays of food, pouring drinks and serving guests can take a toll. Some secrets known to banquet servers help to keep them safe and injury-free, while others dictate the proper table manners to use when serving guests at a banquet. Whether you're a first-time or long-time banquet server, these ideas will help to improve your skills.
Preventing Injuries
Carry trays correctly to avoid bending your back in unnatural ways. The weight of a fully loaded tray of food can cause you to tilt. Avoid leaning when carrying trays and keep your back straight. Hold a tray close to your body, with one shoulder supporting most of the tray's weight and your arm keeping the tray in place. This prevents injuries to the back and muscle fatigue in the arms.
Choosing and Plating Food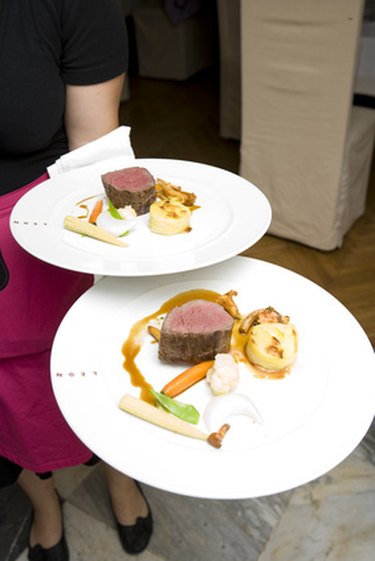 Collaborate with the head chef to choose the banquet menu. Reduce your costs by selecting seasonal meats and produce and locally grown products that lack the shipping costs of more exotic fare. Choose several dishes served in small amounts to keep from stuffing the guests. Evenly space out the food on the plates. This gives each plate more eye appeal and makes it lighter in weight for the server to carry. If you have several types of foods you wish to serve, spread them out over multiple courses to prevent overwhelming the guests with food.
Serving Order
Serve the guests at a seated affair in order of their importance at the table: guest of honor, then the women closest to the guest of honor by seniority, the men in proximity to the guest of honor or by seniority and finally any children. If serving by seniority, serve the oldest women first followed by the younger women before serving the oldest men, younger men and children. If you cannot discern ages or a table lacks a guest of honor, serve all the women first, then the men.
Serving and Clearing Plates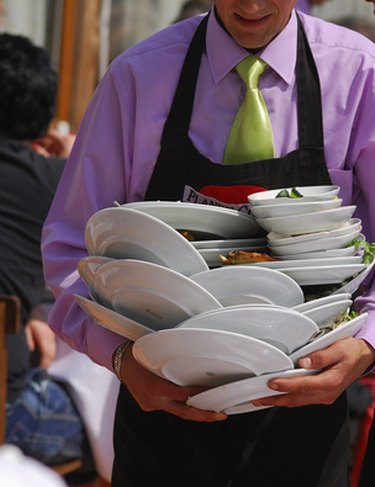 Serve the diners from their left side if placing large family-style platters of food in the middle of the table or setting down side dishes or bread baskets. Remove these plates from the left side when the guests finish with them. Place dinner plates in front of the guests from their right side; clear these plates from the same side. The right is also the guest's side from which you serve wine and pour drinks.
Wait until all of the guests finish eating, then clear all of the plates at once. Avoid the common error of removing plates as each guest finishes. Some perceive this as hovering from overly attentive waiters. Clear away all plates from the same side they were placed in relation to the guest: family-style platters and side dishes from the left and drinks and dinner plates from the right.