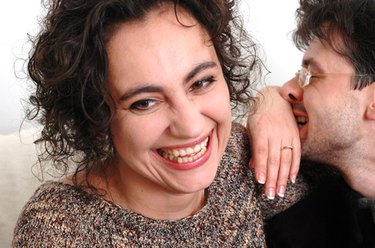 Choose a gift for your sister and her husband that will be memorable. Give them an opportunity to share experiences together as you watch their children or go the more traditional route by purchasing home décor items. Whatever gift you do give them, wrap it up in festive paper and present it with style.
Kid Free Vacation
A very cheap gift, but an extremely thoughtful one is to give your sister and her husband time alone as you watch her children. Whether it is only an overnight stay, a three-day one or an extended 10-day trip (with other family members sharing their time), this gift will allow your sister and spouse to be carefree and rekindle their romance. Add a basket of goodies to this gift, such as scented candles to set the mood, scented oils for massage pampering and a couple of bottles of wine.
Shared Experiences
Season passes to the local theater or symphony group with a dinner certificate to the restaurant of their choice allows them to dress up and enjoy a magical night. Give them tickets to their favorite sporting event, such as a college football game, local NBA team or the soccer match. Another gift option is movie night at the park, a night at the museum or a romantic beach picnic alone. Give them a gift basket filled with a lap blanket to keep warm, a disposable camera to record their night and food for snacks.
Home Décor
Buy one gift for the home such as a small art print to correspond to their existing art or add a small sculpture they may enjoy. Consider turning a photograph of them into a canvas print to hang over their fireplace as a gift. Or buy several frames and insert pictures of them and the children. Create a memory photo book detailing the events during their marriage. Give a small ficus tree for the empty corner, or a couple of ferns in unusual planters for the dark lit corners of the home.