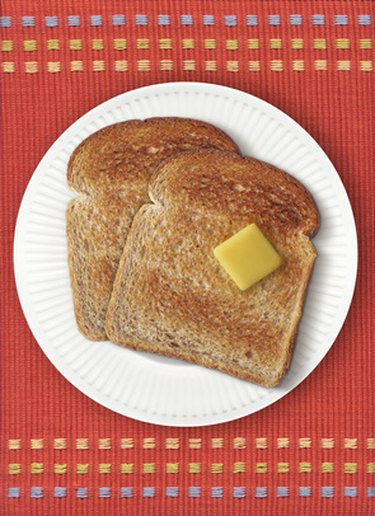 Sleepovers can be hectic, noisy and energy draining, so the morning after, you want to make a breakfast that isn't going to tax what strength you have left. Try a nutritious finger food or a hot breakfast bake that will surely have everyone shouting for more. Be sure to check for food allergies before choosing a menu for the sleepover.
Sausage Squares
Sausage squares use two cans refrigerated crescent rolls, one 8-ounce package of cooked breakfast sausage and one 8-ounce package of cream cheese, softened. Spread one can of crescent rolls out in a greased baking dish, then cover with cream cheese. Crumble the sausage over the cream cheese, and cover everything with the other can of crescent rolls. Bake in a 325-degree F oven for 12 to 15 minutes until golden brown. Serve with sliced fruit. This recipe was created by Haley, age 12, of the United States for easy-kids-recipes.com.
Peach French Toast Bake
Peach french toast bake uses one 8-ounce whole wheat baguette, four large eggs, four large egg whites, 1 cup milk, 1 tsp. vanilla, 5 cups unsweetened sliced peaches, 2 tbsp. packed brown sugar, 1/4 tsp. ground cinnamon, 1 1/2 cups plain yogurt and 3/4 cup maple syrup. Spray a 13x9-inch baking dish with cooking spray. Cut the baguette into 1/2 inch slices, and place them in the bottom of the dish. In a bowl, mix together eggs, egg whites, milk and vanilla, and pour the mixture over the bread. Sprinkle with brown sugar and cinnamon. Cover with plastic wrap, and refrigerate overnight. Bake uncovered at 350 degrees F for 35 to 40 minutes. Top with yogurt and maple syrup. Recipe provided courtesy of Ellie Krieger for recipes.kaboose.com.
Scrambled Egg Nests
Scrambled egg nests use 3 1/2 cups defrosted shredded potatoes, 1/3 cup oil or butter, 1/2 tsp. salt, 1/4 tsp. pepper, six eggs, 2/3 cup milk, 1/2 cup finely diced onion, 1/3 cup finely diced bell peppers, 3/4 cup cooked crumbled breakfast sausage and 1/2 cup shredded cheddar cheese. In a large bowl, mix the potatoes, 1/4 cup oil or butter, salt and pepper. Spoon potato mixture evenly into 12 cup muffin pan, pressing into the bottom and up the sides of the cups. Bake at 400 degrees F for 30 to 35 minutes. Cool and remove the potatoes from the pan. Use the remaining oil or butter to saute the onions and peppers for 2 to 3 minutes, add the sausage and cook until heated through. Mix eggs and milk together, add to sausage mixture, cook until the eggs are set and season with salt and pepper to taste. Place potato nests on a cookie sheet, and fill each one with the egg mixture. Top with shredded cheese and bake at 375 degrees F for 2 to 3 minutes to melt cheese. Serve warm. Recipe courtesy of Family Fun Magazine for familyfun.go.com.