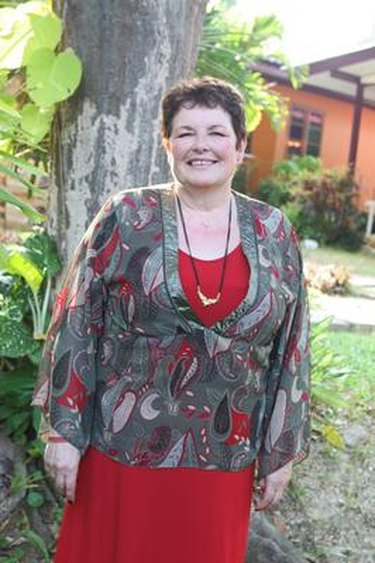 Celebrate the retirement of a family member, friend or co-worker with gifts that celebrate who she is and her contribution to the work force. Give clever gifts that the recipient will display proudly or put to use on a daily basis. Focus on who the retiree is and how she plans to spend her time in retirement. Celebrate her unique personality and all of the things you love about her.
Favorite Items Box
Create a list of the retiree's favorite daily items. Include the things that remind you of your co-worker because he uses them every day. Include items like coffee, soft drinks, snacks, certain office supplies, favorite colors, cosmetics and more. Decorate a shoebox with photographs of the retiree and include at least one of each of the items on the list in the box, with a note about how they remind you of your co-worker. Present the box to him on his last day at the office. Not only will he enjoy using all of his favorite items, but the box is perfect for storing office keepsakes once he goes home.
Look Toward the Future
Retirement gifts are often focused on the past, remembering the good times and all of the hard work put in over the years. Instead of the past, focus on what lies ahead. If the retiree plans a big move after retirement, or has other plans such as community volunteering, gardening or travel, give gifts pertaining to those interests. Someone moving to a golf community might enjoy a new putter, while the retiree planning to create a lush and beautiful garden may appreciates rare seeds. Package gifts in a tote bag with notes written by each co-worker or family member. Keep the messages focused on happy wishes for the future, instead of on memories from the past.
Instant Party
Retirement is exciting, but after a few weeks the thrill wears off for some people, once the cards stop coming and the parties are all over. Create an instant party box for the retiree so that she can host a party to spice things up whenever she wants. Include a gift certificate to a local cake shop, pizza place and movie store. Put party favors and decorations in the box. Include vinyl tablecloths, party hats, streamers, noisemakers, plates, cups, napkins and plastic silverware. Purchase snack foods such as trail mix, chips, imported cookies and dried fruits. Make a guest list and tuck it into the box. When the retiree is ready to party, she can call down the list and throws an instant party without all of the preparation and hassle.
Pampering
The retiree is a hard worker who has been at it for decades. Let someone wait on her for a change. Put together a spa basket with pampering items, hire a masseuse, make an appointment at a spa, pay for a week's worth of personalized cooking, or provide housekeeping services. Take some of the work out of her life so that she can enjoy the beginning of her retirement and celebrate with a bang.