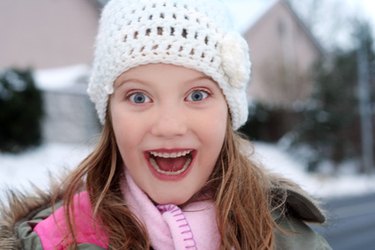 Planning a party for 12-year-olds can be a challenge. Preteens want to feel independent, but they also want to have as much fun as they did when they were younger. Add winter weather, and party planning can come to a screeching halt. But with some planning, you can throw a mid-winter party that both you and your preteen guests will enjoy.
Winter Theme
Instead of fighting the winter, embrace it in the theme of the party. Send the kids on a scavenger hunt inside and outside the house for winter items, such as a snow shovel, boots, gloves and even snow. Have the kids make paper snowflakes. Preteens are adept at folding paper and using scissors, and they can make some pretty amazing creations. Last, play Find the Glove. Make a pile of winter clothes. Hide one glove for every child--minus one--in the pile. Have the kids walk around the pile while music plays. When the music stops, the kids dive into the pile to find the gloves. The child who comes up with no glove is out. Remove a glove from play, and hide the rest of the gloves. Repeat until just one person is left. He's the winner.
Opposites Attract
If you're tired of the cold and snow of winter, mix things up with a summery tropical theme. Grass skirts and Hawaiian shirts should warm things up nicely. Toss in a beach ball and some hula hoops for fun and games. Who can spin the hula hoop the longest? Can you keep the beach ball from hitting the ground? Decorate for summer, and remind everyone to wear sunglasses.
Outdoors
Winter can provide fun activities that can't be enjoyed any other time of year. Ice skating, sledding and snowball battles only come around once a year. Take advantage of the snow and head outdoors. Have a snowman-building contest, some fun sleigh riding and a few snow angels followed by hot cocoa topped with whipped cream and a little cocoa powder.
Elsewhere
By the time they are turning 12, most kids feel they've outgrown the popular pizza party place hosted by a talking mouse. But there are fun options for this age group that keeps the party--and the mess--out of the house. Check out laser-tag places and arcades. Another interesting out-of-the-house option is a sleepover in an unusual place. Many museums, aquariums and zoos offer group sleepovers.