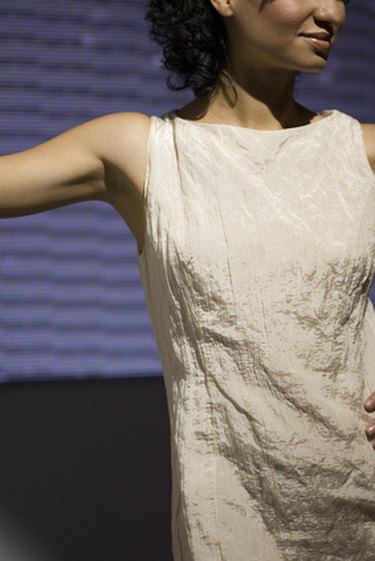 When holding a beauty pageant, let your creativity dictate the event's theme, decor and atmosphere. Draw inspiration from different kinds of pageants to uncover the perfect theme. You may style the occasion around a rustic, county-fair "beauty queen" event or, for a more glamorous affair, model the event around a full-out "Miss America" pageant.
An Unusual Miss Universe Pageant
For an unusual spin on the traditional pageant, take the title "Miss Universe" a bit more literally. Have contestants don futuristic outfits. Ask each contestant questions themed around matters such as space exploration, planet-wide conservation issues or her opinion about the future. For a talent segment, have each contestant fashion a makeshift "space age" garment out of materials such as mylar or aluminum foil. As a final round, have contestants model their handmade garments.
A Retro "Pin-Up" Pageant
For a pageant that borrows from historical beauties, select a retro "pin-up" theme. Have participants incorporate the fashions of the mid-twentieth century into their looks. For one round of the pageant, have each contestant evoke the look of a single starlet from the era, such as Rita Hayworth or Veronica Lake. In addition to the traditional live show, require each contestant also enter tasteful "pin-up" style glamour photographs. If your pageant's proceeds go to a charity, compile all the contestants' photographs into a calendar to benefit your cause.
A Classic Miss America Pageant
For a beauty pageant steeped in tradition, take inspiration from past Miss America pageants. Have contestants familiarize themselves with the pageant's history. Ask them questions such as which Miss America inspires them the most, how the pageant has changed and where it ought to go from here or what they feel was the greatest landmark in the history of the pageant. Take your cues from the Miss America pageant format, including sections for interview, talent, evening wear and swimsuits.
A County Fair Queen Pageant
For a less-formal pageant, adopt the country theme of a county fair. Crown the winner as queen of some local specialty. For example, if your organization has a bear for a mascot, your pageant might select the Honey Queen. Round things out with barnyard challenges. In addition to traditional evening wear or swimsuit categories, have contestants don Western wear for one round. For a high-spirited and memorable "talent" round, require participants to sing a country-western song, call a square dance or catch a chicken. After the ceremony, build a simple float for the newly crowned queen to ride away on, waving to the crowd. For a low-budget scenario, simply decorate the flatbed of a pickup truck to suit the county fair theme.