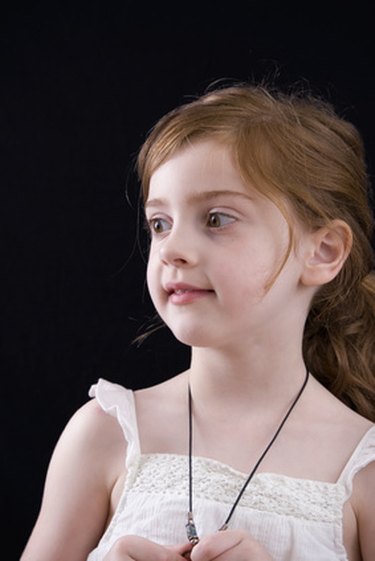 Baptism is one way Christians demonstrate to the world their dedication to Christ and their commitment to living in the faith. It can be an especially exciting day for a 6-year-old child and is often surrounded by an air of celebration. A thoughtfully chosen gift can help a child commemorate his baptism.
Ideas for Girls
A 6-year-old girl would enjoy receiving a ring or dainty bracelet, engraved with the date of her baptism. Anything for her room, like a wall cross, pillow stitched with her name and date of baptism or a soft throw with her name on it would be welcomed gifts. She would likely also enjoy a faith-inspired T-shirt or a brightly colored drawstring backpack with Ichthus, the fish symbol representing Christianity, stitched on it. Consider buying her one of the first devotional Bibles she'll ever own such as the "Young Women of Faith Bible" or "Kids Study Bible." Or, give her a traditional style devotional such as "VeggieTales 365 Bedtime Devotionals for Girls."
Ideas for Boys
A 6-year-old boy would likely appreciate a sturdy leather wrist cuff with his name and date of baptism engraved into the surface. Consider giving him a backpack with Ichthus stitched on it or a personalized tray for him to store the small valuables in his bedroom. A masculine-styled wall cross or personalized stone fresco with his name and date of baptism would both make good additions to his room. Give him a Bible that doubles as a daily devotional like the "Sports Devotional Bible" or "The Adventurer's Bible." "The Ultimate Devotional for Boys" would provide him with 365 nightly devotions.
Ideas for Any Child
Offer to take pictures of the special day and create a photo album. Have a picture frame personalized and put a single picture of the child and his family in it. Give the child a classic cross on a chain, etched with the date of his baptism. Gift the child with a children's book about the heroes of the Bible like Abraham, Moses and Daniel. Consider giving him the book or DVD version of "Wild and Wacky Totally True Bible Stories" or the DVD "All About Jesus."