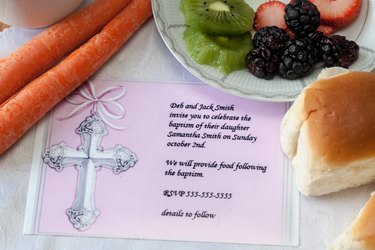 When you host a baptism party, you want it to be memorable and a festive celebration for everyone attending. It is a ceremony that commands a celebration of family and friends after the religious service is completed. The baptism party can be range from casual to formal and take place late morning, at lunchtime or in the afternoon. Food is a primary component of these gatherings, so you will want the menu as enjoyable as the celebration.
Brunch
Many baptisms are performed during the regular Sunday church service, or shortly thereafter, and a bunch is an ideal solution for a menu idea. Not only is a bunch served buffet style, allowing your guests to pick and choose from an array of food items, but a brunch menu lets you prepare most of the food items in advance. Platters of sliced fresh fruit or fruit salad, muffins and pastries, egg casseroles, quiche, a meat or fish entree, one to three side dishes of vegetables and potatoes, and, of course, a special baptismal cake are perfect items for your brunch.
Lunch
A lunch menu for a baptism party can be as casual as a backyard barbecue or buffet or a formal sit-down affair. Meat and cheese trays with accompanied garnishments of lettuce, tomato slices, pickles and onions, and baskets of rolls and bread will let your guests build their own sandwiches. Salads, side dishes and an assortment of sweets and desserts make an easy, make-ahead menu. More formal menus can include spiral hams, roast beef, crab cakes, or salmon with steamed asparagus or fresh green beans. Again, a fabulous baptismal cake makes the perfect dessert.
Afternoon
Midafternoon baptism celebrations can be the most interesting menus to create. Serve an assortment of appetizers and canapes made with smoked salmon, mini chicken kebobs, and stuffed mushrooms, as examples. Finger foods such as platters of fresh, cut vegetables, domestic and imported cheeses, baskets of a variety of crackers and breads, and a variety of dips such as a spinach dip served in a scooped-out round bread loaf and a sweet raspberry dip for biscuits can make an appealing feast. A more formal midafternoon menu might have an English tea theme with finger sandwiches, fruit tarts, sweet biscuits, individual cakes and assorted brewed teas. Regardless of what you choose to serve at an afternoon baptism celebration, a beautiful baptismal cake should be included.