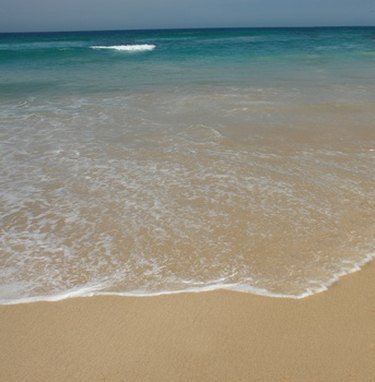 Themed parties add festivity to any event, so throw a beach-themed party for senior citizens. Whether this party takes place in your home, an assisted living facility or on the beach, cater your party to suit your guests' interests. If you're hosting an outdoor party, create shade and have plenty of sunscreen and water on hand. Your music, decorations and menu also can reflect the beach theme.
Setup
Transform your venue into a tropical paradise for seniors to enjoy. Hang beach balls from the ceiling and drape tables in colorful beach towels. If you're having your party outside, set up several canopies or beach umbrellas so that seniors can stay in the shade while they enjoy the festivities. Fill aluminum tubs with bottled water so your guests can stay hydrated. Consider setting up portable fans in your venue, whether it's inside or out, to keep things cool. Rather than being obtrusive, you can dress up fans to match your beach party décor—hang a grass skirt around the fan's base, or wrap leis around it.
Activities
Keep seniors entertained at your beach party by organizing a few activities for them to participate in. Many senior citizens enjoy playing a few rounds of bingo, so create a beach-themed bingo card for your event. Rather than spelling out "bingo" at the top of your bingo cards, you can spell out "beach." Print the bingo cards on brightly colored card stock and give guests small seashells to use as markers for their cards. Give the winner of each bingo round a beach-themed prize, like a pair of sunglasses or a beach towel. For senior citizens less interested in bingo, set up tables for guests to play Go Fish, a classic card game with a beach theme.
Favors
Thank senior citizens for attending your beach party by sending them home with themed party favors. Give them leis to wear during the party and let them take them home as a memory of your event. Nursing Home Activities Resource recommends setting up large, cardboard, beach-themed cutouts and letting seniors take pictures with them. Use an instant camera or a digital camera with a photo printer. Send guests home with their photos in a beach-themed frame. You also can give guests DVDs of classic beach movies from the era in which they grew up, such as "Blue Hawaii" or "Diamond Head."