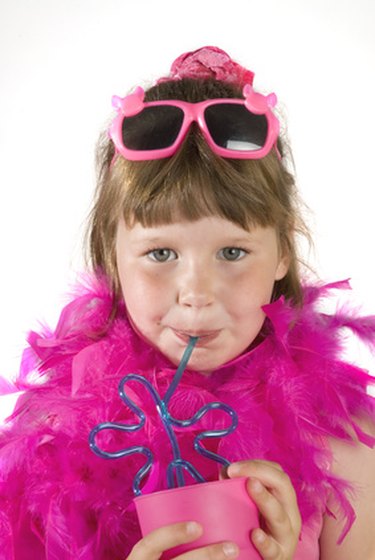 Finding activities for a 12-year-old girl's party can be challenging. At that age, girls are too old for simple games such as relay races and board games, but they are too young to entertain themselves. To find games for 12-year-olds, center games around the things they are becoming interested in, such as fashion and shopping, celebrities and music.
Makeovers
Girls who are 12 years old are just beginning to experiment with makeup, so giving them full access to loads of makeup is a special treat. Create a beauty-parlor feel in your living room or kitchen. Set up several mirrors, chairs, and plug in curling irons, flat irons, hot rollers and even crimpers all over the room. Buy a large variety of makeup from the dollar store and display it on a table in the middle of the room. Buy a selection of eye shadow and lip gloss in different colors, and brown and black mascara and eyeliner. Also set up a table with different hair accessories such as ribbons, head bands, hair clips, bobby pins, flower pins and any other hair accessories you can find. Put on some upbeat music and allow the girls to makeover themselves or each other.
Karaoke/Lip Syncing Contest
Let the girls' inner divas come out with a karaoke or lip-syncing contest. Ask the birthday girl what her preference is. She will know whether her friends will be bold enough to sing in front of the group, or if they would be more comfortable just lip syncing and mouthing the words. Set up a stage in the front of the room, complete with a microphone and a TV so that the girls can see the music videos for the songs they are singing. Put together a CD of the girls' favorite music and a corresponding list so they can request the song they want to perform. Judge the girls and choose the best based their performance and enthusiasm. This activity would be fun to do following the makeovers, so that they girls already look like rock stars.
$5 Fashion Show
Performing a fashion show on a budget is a fun way to challenge the girls' creativity. Give each party guest $5, and take them to a discount or dollar store. Challenge them to use their $5 to buy supplies for a fashion show. Once they have all made their purchases, take them home and let them prepare for their show. In the meantime, create a "runway" in your backyard or living room. Turn on the music, take the mike and MC the show as each girl walks down the runway. You will be amazed at how creative the girls will be with such a small amount of money.