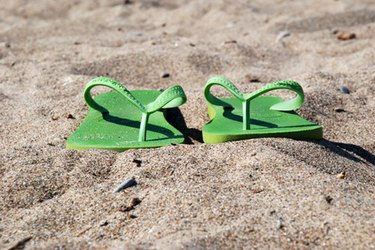 Debut, or coming out parties, especially when incorporating a beach theme, are enjoyable to plan. Whether thrown at an actual beach or bringing the beach party to your home, elements of the seashore adds the touches that make it authentic and memorable. Present your young debutante through a palm tree flanked arch and let the party begin.
Invitations
Bring the beach to your party starting with your invitations. Select stationery that evokes a beach feeling and add a special touch of your own by drizzling white glue onto the card and sprinkling fine white sand over it while still wet.
Attire
Set the mood by asking all your guests to dress for the beach, whether that means board shorts, sundresses, and flip-flops for a very casual debut party, all the way to all white linen dresses and slacks for a more formal feel. Provide floral leis for all your guests. Leis are available in novelty, silk and fresh cut flowers, select the most appropriate depending on the formality of the party and the size of your budget.
Decorations
Set the stage with beach style decorations for your debut beach party. Tiki torches, palm trees, coconuts, pineapples, tropical floral arrangements and beach flags help set the mood and make guests feel like they might really be at the beach if you're not. Hang multicolored beach balls overhead for a fun touch.
Beverages
Serve fruit juice drinks featuring pineapple, coconut or mango juices for an authentic island feel. Serve the fruit cocktails in coconut halves or hurricane glasses with a slice of fruit on the side to give your party a tropical feel.
Barbecue
Light up a grill on the beach or in your yard for a barbecue. Grilled pineapples, lime marinated chicken and shrimp shish kabobs. Grill fresh peach halves or mangoes to add to vanilla ice cream for your dessert.
Beach Volleyball
Set up a volleyball net right on the beach, or if having your beach debut party at an alternative location, have enough sand delivered to create the illusion of a sand volleyball court in your backyard.
Swimming Pool
Have your party poolside at your home or club, using all referenced decorations to transform it into a tropical paradise.
Dancing
Debutantes take lots of dance lessons in their preparations for their debut parties, so set up an area for dancing and put on music that all her guests will enjoy dancing to. Select the type of music to correspond to the type of party you are planning. Booking a live band makes for a memorable party.