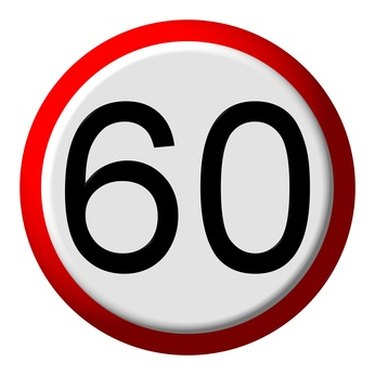 Celebrate a 60th birthday with a surprise party personalized for your guest of honor. Throw your surprise birthday bash in your home or the home of a family member or friend. Rather than using common birthday decorations and serving standard party fare, personalize these items to suit the tastes of the 60-year-old in your life.
Decorations
Create decorations that feature the 60-year-old. Using poster board, cut out a large "6" and "0." Then, collect photos of the 60-year-old through the years, and glue them onto the numbers to create a collage; use this as your door decoration. If you're hosting a seated dinner, name each table after a year in the life of the 60-year-old. For example, the 1975 table might show a picture of the guest of honor at her wedding, while the 1955 table can include a framed photo from her first day of school. Seat the birthday girl at the table with the current year, and instead of including a photo in the frame, include a message like "Happy 60th Birthday, Paula!"
Menu
Personalize your menu for the guest of honor. If he's Italian, offer an Italian menu, family style, that features antipasto and bruschetta to start, followed by eggplant Parmesan, stuffed shells or manicotti and tiramisu for dessert. Serve Italian wines like Chianti for the birthday boy to enjoy. Or, you can offer a hodgepodge buffet that features the 60-year-old's favorite items. Talk to her family and friends to find out what her favorite foods are, and build a buffet that features all of them. If she loves to bake or just has a serious sweet tooth, offer a dessert buffet that includes sweet treats like cookies, brownies and cupcakes.
Surprise Ideas
The key to a successful surprise 60th birthday party is creating a true surprise. Throw the 60-year-old off by throwing the celebration the weekend before her birthday, rather than on her birthday. Have his immediate family take him out to dinner on his birthday, and surprise him when he returns home with a houseful of guests. Celebrations.com recommends telling the 60-year-old about an intimate celebration at home on a Saturday night, but throw the big bash on Friday night instead. Don't ignore the birthday completely, which might make the 60-year-old suspicious. Instead, plan a different event to divert the birthday gal's attention from the big surprise.