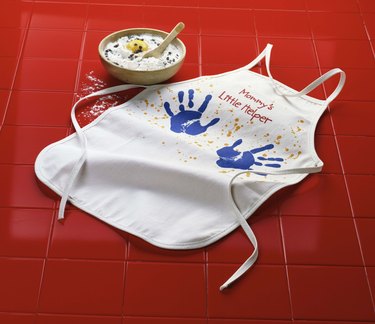 Teach your budding chef and craft artist how to add color and pizzazz to plain fabric aprons. There are many ways to decorate kids' aprons using materials and supplies available at craft and discount stores. Aprons can protect kids' clothing during a variety of activities. Create distinctive aprons for painting, crafting and cooking.
Puffy Painted Aprons
Kids can create custom designs on their aprons using puffy fabric paint. Puff paint is available in a variety of colors. Kids can apply puff paint the same way they would use other types of paint, with a paint brush or directly from the applicator tip. When the paint dries, iron the backside with steam and the paint will puff to create a raised surface. Kids can write their names on the aprons as well as paint a chef's hat, vegetables, fruit and other food or cooking related objects.
Holiday Appliqués
Create fabric appliqués to decorate kids' aprons using holiday motifs. Appliqué patterns are available online, or you can freehand your own design. Trace the pattern onto holiday fabric and cut it out. Fold, pin and iron a 1/4-inch seam around the perimeter of the fabric cutout, and then stitch it onto the apron. Kids can make Christmas tree appliqués, Easter egg appliqués and Thanksgiving turkey appliqués to fit specific holidays.
Iron-on Transfers
Another craft material you can use to decorate is iron-on transfers. Typically used to embellish t-shirts, iron-on transfers are available in a wide range of styles, including lettering and images. Place the transfer face down on the desired area of the apron, and then go over it with a hot iron. Make sure you keep the iron moving on top of the apron. When you peel the removable backing from the transfer, the image stays on the apron.
Bejeweled Apron
Kids can create a sparkly apron using flat-backed rhinestones and fabric glue. Arrange the jewels in the desired pattern on the apron and then glue them in place. Fabric glue is designed to withstand washing and drying, so you can clean the aprons as needed.
Tie-Dyed Aprons
Select plain white aprons for kids to decorate in a tie-dyed design with fabric dye. Bunch the apron fabric using rubber bands before soaking it in the liquid fabric dye. When the apron is dry, remove the rubber bands to reveal the tie-dyed effect.