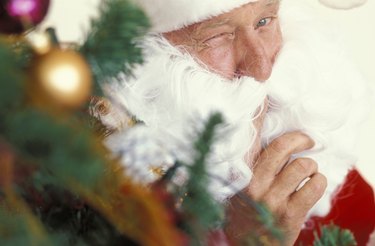 Christmas gift shopping can be a stressful, not to mention expensive, venture. Rather than scouring the stores for generic items that your recipient might not even like, create a personalized gift at home for your family and friends. With a little elbow grease and some creativity, you can create homemade Christmas gifts that adults will love. Consider their tastes when choosing a gift, and personalize each gift to give it that uniquely homemade touch.
Edible Gifts
Treat adults to edible homemade gifts for Christmas. You might not want to give a child dozens of sweet treats, but these edible gift ideas will suit any adult's sweet tooth. Bake a variety of Christmas cookies, like sugar cookies decorated with red and green icing or snickerdoodles, and fill a tin with your homemade treats. Include a note on the gift that sends your Christmas greetings. For the adult who loves to bake but often doesn't have the time, fill a mason jar with the dry ingredients for your favorite cookie recipe. Tie a Christmas-themed ribbon around the lid, and attach a label with the wet ingredients and baking temperature and time. For a fan of warm drinks, create a hot cocoa mix, pour it in a jar and top it with miniature marshmallows. Instruct your recipient to add water and enjoy this special Christmas treat.
Gift Baskets
Gift baskets are an easy, all-inclusive Christmas gift idea that you can put together at home. Choose a theme that suits your recipient's interests for a one-of-a-kind adult Christmas gift. For example, if the recipient is a movie buff, fill a popcorn bowl full of a couple of his favorite DVDs, some microwave popcorn and gift certificates to a local movie theater. If she loves to cook, use a casserole dish as the "basket" and fill it with your favorite recipes written in a notebook along with a new set of measuring cups or utensils.
Craft Gifts
If you are crafty, use your talents to create easy Christmas gifts. If you knit, sew your recipient a warm scarf or pair of mittens to wear this winter. If you paint or draw, create a piece of artwork that matches the colors of the recipient's house and frame it. Better yet, take a picture of the recipient's family, and turn that picture into an original painting or drawing. If you make jewelry, create a one-of-a-kind necklace, ring or earrings for your recipient. She'll love wearing this original, homemade piece of jewelry.