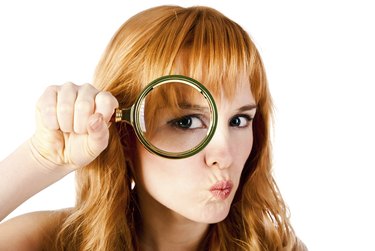 Give your favorite mystery lover a birthday to die for with a "Clue"-themed birthday party. Base your bash on the board game, the cult-classic movie or a little bit of both, using "Clue"-themed decor, signature dishes from the main characters and plenty of costumed hijinks. You'll have so much fun that the police might get suspicious.
"Clue"-Themed Decor
Set your table like a fancy conservatory dining table with vintage china and centerpieces with fresh flowers. Check thrift shops and online stores for copies of the "Clue" board game, and use elements from the game as part of your decor. Glue game pieces on napkin rings, and laminate game cards to use as coasters. Use game boards as place mats or under serving dishes. Put toy magnifying glasses next to each table setting, and put the game's "murder weapons" such as lead pipes, ropes, candlesticks and toy pistols on side tables.
Food and Drink
Name your food and drinks after elements of the game or movie. Make Miss Scarlett's red velvet birthday cake, with white icing and cherry syrup blood droplets running down the edges. Set out bags of Mrs. Peacock's popcorn and a tray of club sandwiches with Colonel Mustard's mustard. Top cookies and cupcakes with question marks made out of icing. For non-alcoholic beverages, label soda bottles as "Suspicious Soda" and make a bowl of Puzzling Punch with ginger ale, cherry and cranberry juice. For adult guests, serve alcoholic drinks such as Mr. Boddy's beer or mysterious martinis.
Activities and Games
Playing an actual game of "Clue" is a must, of course, though if guests crave more activities, set up a photo booth and let party-goers take pictures of themselves with "Clue" props such as wrenches and toy pistols. Or, come up with your own mystery game. For example, have every guest write down a little-known fact about themselves and put it in an anonymous envelope. Then have guests play detective by trying to match the secret facts to the right person. Give toy magnifying glasses or "Clue" board games as prizes.
Costume Parties
Specify on the invitations that guests should come dressed as their favorite Clue character from the game or movie. Dress as a fancy butler in a tuxedo with tails, or find a vintage red dress for a Miss Scarlet costume. Channel Mrs. Peacock with a green dress and a peacock feather hat, or go as Colonel Mustard in a military uniform and a fake mustache. Or, put on your best detective outfit, complete with a trench coat, pipe and magnifying glass.