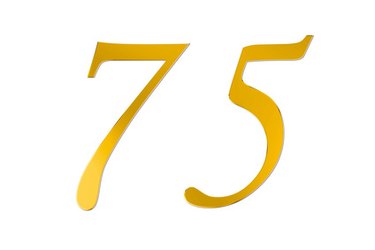 Turning 75 is a milestone in anyone's life. Make the occasion truly special by planning an amazing birthday bash. Whether it's a lavish affair or a quiet family gathering, decorate for the party with distinctive centerpieces that have a special meaning for the birthday person. Not only will these centerpieces make the party more beautiful, but they will act as conversation starters also--perfect if the party is so large that some people might not know each other.
Crystal Elegance
Someone who is turning 75 deserves an elegant and sophisticated experience. In fact, the symbol for a 75th anniversary is diamonds, according to My Wedding Favors, so use the "diamond" theme for a birthday as well. Forget tacky "over the hill" decor and create beautiful, classy centerpieces out of bouquets of flowers. Tuck bare or flowered branches into silver or crystal vases, (weight the vases down with pebbles or marbles) and then attach lightweight plastic or glass crystals (available at craft stores) to the branches so that they dangle down and catch the light. Sprinkle more of the crystals on the table around the vases. They will look similar to diamonds. For added sparkle, add a few tea light candles under the vase to light up the dangling crystals. For a truly special touch, make sure each centerpiece has exactly 75 crystals.
This is Your Life
Create baskets full of memorabilia from the childhood years of the birthday person. The items could include classic toys, newspaper headlines, popular musical groups or fashion trend items. Or, fill a basket with things that were important to the birthday person during his or her life. For example, if he was a skilled golfer, you could place some of his old golfing trophies and his favorite golfing hat in the basket. This type of centerpiece works well for the center of a gift table, but is also a conversation starter if placed at a food table.
Photos
Framed photos are a wonderful way to share more about the birthday person's life. Set up a group of framed photos at each table. Focus each group on a different period in the birthday person's life. For example, one table could feature a group of childhood photos, the next could feature early marriage photos, and so on. If you can, try to come up with 75 photos to make this decor idea even more appropriate for the theme. Set off each group of photos with a small bud vase filled with simple white roses.