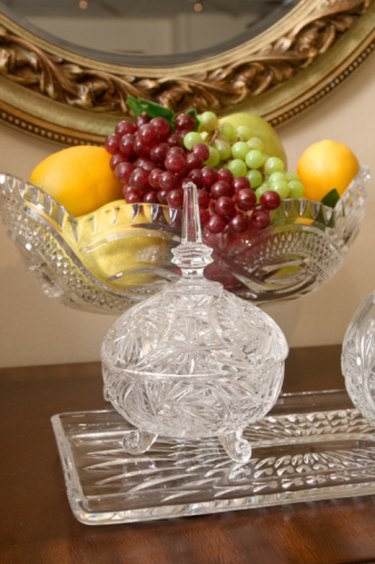 Crystal, or lead crystal, in any of its forms has been a symbol of life, purity and greatness since its discovery in the late 17th century. The simple addition of lead oxide to molten glass gives lead crystal additional weight, strength and clarity, which allows the glass maker and cutter to create bowls, glassware and even decorative items that will catch the light and project a sparkling radiance. With simple additions to enhance items like a crystal bowl, you can make your lead crystal a part of your home's decor.
Simple and Fresh
Simple, elegant and fresh are the keys when looking for something to enhance your crystal bowls. Use a fresh fruit selection, such as apples, grapes, bananas and pears, or fill the bowl with one type of fruit like Queen Anne Cherries or green and black grapes to give an elegant touch to your dining room or kitchen. If necessary, choose faux fruit of good quality to take the place of real and provide a worry-free decoration for those rooms.
Decorative Water Crystals
Crystal bowls often are covered in intricate designs cut into the bowl itself. This "cut glass" effect looks best when subtly enhanced, allowing the design to be the main decoration. Use solid or multicolored water crystals to fill the bowl. These crystals are soaked in water until they expand and are soft and flexible enough not to damage the crystal bowl. A bowl filled with these will reflect subtle shadings while letting the light pour through the refractive cuts.
Brillant Colors
Use your crystal bowls to highlight special foods for the holidays or a special event. Bowls filled with handmade chocolate, puff pastries or any small dessert looks festive when placed on a holiday buffet. Candy can be placed on a side table in a living or family room, ready to be snacked on, or save the calories by purchasing hand-blown glass candy to fill the bowl. Choose candy that is rich in color so that the colors can be seen through the glass.
Lights and Shine
Keeping the decorations simple is one of the most important aspects of decorating crystal bowls. A simple string of lights, battery operated if possible, will make the refractive quality of the glass stand out. Small solid-colored glass ornaments carefully placed within a large bowl add depth and shine to the crystal and can be changed for any season or holiday. Natural elements like pinecones stacked in the bowl give a more elemental feel totally in keeping with the life symbolism of the crystal itself. Made of earth, wind, fire and water, the crystal enhances natural elements while adding sophistication and elegance.