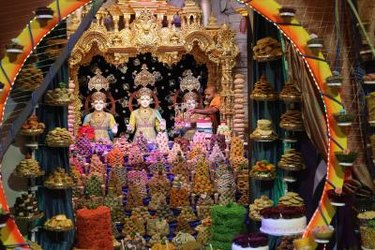 On the Indian holiday, Diwali, Indians throw open their windows to welcome Lakshmi, the Hindu goddess of wealth. Hindus celebrating the New Year holiday clean their homes in anticipation of Lakshmi's arrival. Diwali is also called the Festival of Lights for the clay lamps Hindus burn lighting the way for the goddess, according to DiwaliFestival.org. The light from the burning lamps symbolizes a Hindu's illuminated mind, according to the website, Activity Village. Diwali games reflect the excitement of the holiday, employing light, song and creative expression.
Diwali Diya Lighting
Hindu children play the Diwali diya lighting contest. Children divide into teams. Members of each team, according to the website, Kids Gen, rush around a room with unlit earthen Diwali lamps called diyas. (Use electric lamps for kids' safety in this game). The team that lights the most lamps within a set time wins the game.
Antakshari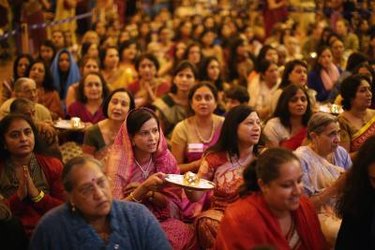 The Diwali game, Antakshari, brings Hindu children or adults together singing songs from Hindu films. According to Kids Gen, the game begins with one person singing exactly two lines from a Hindu movie song. The next person sings another song beginning with the last Hindi letter of the last song. Singers proceed in any chosen direction around a circle.
Rangoli Contest
Hindu children and adults engage in rangoli during Diwali. Rangoli means "rows of colors" in Sanskrit. Hindus gather in a festive atmosphere to create colorful designs to grace the walls and floors of their homes as artistic "welcome" symbols for the Hindu goddess of wealth, Lakshmi. According to the website, The Holiday Spot, some Hindus believe rangoli images ward off bad luck. Rangoli uses vivid colors and patterns with substances like rice powder or colored chalk. Artists embellish rangoli images with flowers and various decorations.
Diwali Drawing Contest
Diwali legends honor an array of Hindu gods and goddesses. In addition to Lakshmi, Hindus celebrate lords Krishna, Vishnu and Rama for their saving actions in Hindu legend. Since Hindu deities are so colorful children will enjoy drawing them on large sheets of drawing papers with large boxes of crayons for a contest as described on DiwaliFestival.org.
Divide the children into teams. Ask each team to draw a deity or a legendary Diwali event such as the victory of Lord Rama over Ravana and Lanka. Ask the children to write, "Happy Diwali!" beneath their drawings. Gather a panel of elders to judge the drawings. Give the members of the winning team candy prizes. Hang the winning drawing in a place of honor for Lakshmi to see when she enters the home.