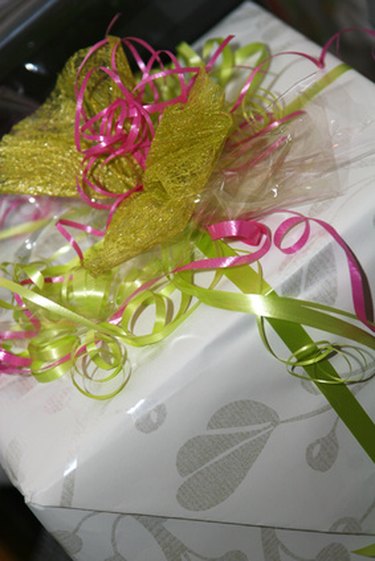 Upon invitation to a bridal shower for a bride's second wedding, deciding what to purchase can prove difficult. But there are a plenitude of gifts the bride, and even the groom, may need or want. Select something that is useful to both in celebration of the occasion, regardless it's their first wedding or not.
Personalize
If you know the bride is taking the groom's surname, give the bride a personalized gifts that reflect what her new name. You could choose a personalized welcome mat, wine glasses or a sign for their porch. This gift is something you can be sure the bride does not already own.
Gift Certificate
If you are shopping for a couple that doesn't need much in the way of housewares, give them a gift certificate. Consider a gift card to a favorite local restaurant so that the bride and groom can enjoy a night out on the town. Alternatively, choose a card to a store so that they can choose together items that they want. You could also give them a gift card for lessons they can take together, such as dancing or skiing.
Family
Second marriages often mean the blending of two families. If the bride or groom, or both, have children separately, help the family come together with a gift everyone can enjoy. For example, give them tickets to a local sporting event or age-appropriate board games for a family game night. Another cute family gift is a set of ice cream sundae bowls, an ice cream scoop and sundae toppings.
Traditional
For some couples, being previously married does not mean they have all the traditional gifts, such as dishes and towels. The bride may need replacements for things she received the first time she got married. If that is the case, there is nothing wrong with purchasing the couples items they need including appliances, dishware and linens.