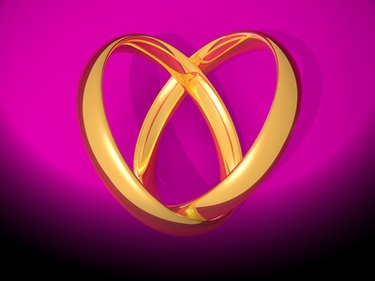 A 50th wedding anniversary is truly a special occasion, and couples who have reached this milestone will likely want to celebrate this monumental day with as many friends and loved ones as possible. If you've been placed in charge of planning such a party, there are a few things to keep in mind to ensure that the gathering is a success.
Decorations and Gifts
It is proper etiquette to give the guests of honor a gift of gold for their 50th wedding anniversary, so this hue can be used to decorate for the celebration as well. Use gold streamers and confetti to decorate each table. Place gold vases on each of the tables, and fill them with yellow roses, as the flower is a symbol of remembrance, joy and delight. You can even arrange to have the cake adorned with gold accents to make the main dessert of the party especially appealing for the "bride and groom." In order to keep the gold theme consistent throughout the party, it's a good idea to request that guests present the couple with a gift that includes gold, such as a gold picture frame, or his and her watches that are plated in gold.
Food
Choose foods to serve that you know the couple will enjoy; if the guests of honor love Italian food, a buffet with a number of pasta dishes is appropriate. Or, prepare food for the party that was popular in the year the couple was married. For instance, in the late 1950s, foods like salmon casserole and baked tomatoes with cheese were common dinner courses; in the 60s, more people began to enjoy barbecues and fondue. Meals that will bring the couple back to the time they first met, or remind them of fond memories with family should be a part of the anniversary party. It may also be a good idea to have the food catered from a restaurant the couple have been visiting for years, or from the restaurant they dined in for their first date.
Guests
Form the guest list based on the couple's preferences; some couples may prefer a large crowd for this party, while others would rather have a small and intimate gathering. Invite people that the couple has had a direct influence on, such as children and grandchildren, and get in touch with current or former coworkers to add to the guest list. If possible, invite some "surprise guests" to the party, such as the couple's childhood friends, or the individual who is responsible for introducing the husband and wife to each other. Encourage all guests to confirm their attendance as soon as possible, and remind them to bring a gift that is in keeping with the golden 50th wedding anniversary theme.