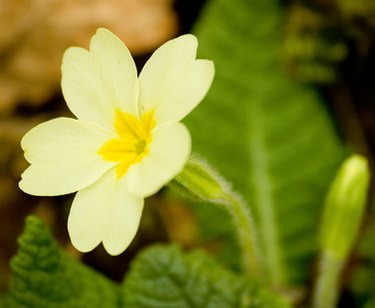 Gardening may not seem like the most intelligent choice for a hobby in Las Vegas, since flowers don't typically thrive in a desert with summer temperatures in the triple digits. However, for those who know the climate and which species can tolerate the heat, there are options. Using these flowers to fill out your garden will add beauty to the landscape no matter what the desert dishes out.
Desert Marigold
The desert marigold is a wildflower native to the Southwest that grows up to 30 inches tall and is topped with a bright yellow bloom at the end of a long green stem featuring hairy leaves. The hairs help to reflect light and keep the internal temperature of the leaves down. They also block sensitive parts of the plant from UV rays.
These flowers bloom in the spring and will continue to bloom over and over again until sometime in November in the average year. Sparrows or other birds may visit your marigolds in the fall to pluck the seeds from the last of the season's flowers for a snack, according to DesertUSA.com.
Native Orchids
Most people likely wouldn't believe that Nevada has more species of native orchids than Hawaii, but it's true. According to the University of Las Vegas Arboretum website, Hawaii has three native orchid species, while Nevada has 14. The native versions of this flower will add a splash of color and survive easily in a Las Vegas garden. They require slight shading and small amounts of water to survive. Three of Nevada's native orchids grow in the desert of Clark County surrounding Las Vegas. The temperatures can range from nine degrees Fahrenheit in winter to 119 in the summer.
Pale Evening Primrose
For a burst of aroma at night, plant the pale evening primrose just outside of an open window. These plants only bloom in the evening and release a pleasing fragrance. The pale evening primrose stands tall at up to 2 feet, with a delicate white flower blooming at the end of a long stem. This plant's seeds can survive throughout the winter in the harshest of climates In the heat of the Las Vegas day, the blooms close up and hide from the sun, coming out later to experience the clear, cool nights, to the delight of their owners.
Roses
Roses may seem too delicate to live in extreme temperatures such as those experienced in Las Vegas, but they are actually quite versatile as long as you give them what they need--water. In a climate where rainfall is scarce, you need to water them a lot, according to HGTV.com. If you have roses in your garden, be sure to water them three or four times a week using three or four gallons of water per plant. If they are in pots, water them daily when the temperatures climb.